Rick Gates, former Trump campaign deputy, pleads guilty in Mueller probe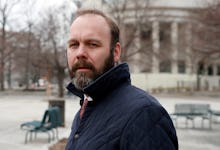 Rick Gates — who once served as Paul Manafort's deputy chairman on the Trump campaign — pleaded guilty Friday to two charges as part of a long-anticipated deal with special counsel Robert Mueller, court documents show.
Gates, who also served on President Donald Trump's inaugural committee before founding a pro-Trump nonprofit, has admitted to a count of conspiracy against the United States and a count of making a false statement to the special counsel's office while being questioned earlier this month about a March 2013 meeting attended by Manafort, a lobbyist and an unnamed member of Congress, according to the statement of the offense.
Gates is now the the third known former Trump official to cooperate with Mueller, whose probe into Russia's interference in the 2016 presidential election has been repeatedly dismissed by the president as a politically motivated "witch hunt."
The investigation has seemed to escalate recently. On Feb. 16, Mueller indicted 13 Russians connected to the Internet Research Agency — a Russian troll farm known for its propaganda and disinformation campaigns. He also indicted 28-year-old Richard Pinedo —who apparently unwittingly participated in the Russians' interference — on a charge of identity fraud. Pinedo pleaded guilty.
On Tuesday, Mueller secured a guilty plea from Alex Van Der Zwaan — a Ukraine-connected lawyer who was associated with Gates. That plea seemed to confirm the reports of Gates' cooperation with Mueller were true.
Gates' guilty plea Friday came a day after Mueller hit him and Manafort with 32 charges in a superseding indictment that alleged the two had laundered over $30 million.
Former federal prosecutor Patrick Cotter said the harsh new charges — which replaced the 12 counts the pair had been indicted on back in October — seemed to signal that negotiations between Gates and Mueller had broken down.
"The normal practice is to file a less serious charge by way of information for a cooperator; you then let them plead to that instead of the more serious charges in the original indictment," Cotter said in an email. "Perhaps it is just that Mueller's gambit to hit a reluctant Gates with new charges to inspire a spirit of cooperation worked far more quickly than one would expect."
The first charge Gates pleaded guilty to relates to his participation in several of Manafort's schemes. The second charge alleges that Gates misled investigators about the nature of a March 2013 meeting that Manafort attended, falsely claiming that he'd been told there had been no discussion of Ukraine at the meeting.
Though the U.S. lawmaker present at the meeting did not appear to be identified in court documents Friday, Bloomberg reported that records suggest the person in question was Rep. Dana Rohrabacher (R-Calif.) — a Congressman seen as sympathetic to Russia.
Gates, who worked with Manafort for years before helping him helm the Trump campaign in the summer of 2016, remained in contact with the White House through at least he beginning of 2017.
The administration in recent days has downplayed the impact Gates guilty plea would have on the president.
"There'd be no anxiety here," a White House spokesperson told CNN on Saturday.
But Gates cooperating with Mueller almost certainly puts significant pressure on the embattled Manafort to follow suit.
"A Gates plea and cooperation would make the pressure on Manafort to cooperate all but unbearable," Cotter said. "And the likely sentence based on yesterday's indictment is very significant. So, the logic of cooperation for Manafort is undeniable."
In a statement Friday, though, Manafort maintained his innocence and promised to keep fighting against the charges.
"I had hoped and expected my business colleague would have the strength to continue the battle to prove our innocence," Manafort said through a spokesman. "For reasons yet to surface he chose to do otherwise. This does not alter my commitment to defend myself against the untrue piled up charges contained in the indictments against me."
Feb. 23, 2017, 4:38 p.m.: This story has been updated.