Trump's CPAC speech was an hourlong rant meant to rile up his ultra-conservative base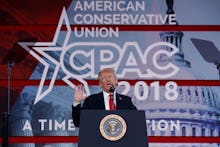 President Donald Trump tossed aside his prepared remarks he was set to deliver to the Conservative Political Action Conference and instead embarked on a more than an hourlong rant in which he called for arming teachers, cutting legal immigration and reliving the 2016 presidential campaign.
Trump was set to deliver prepared remarks to announce new, harsh sanctions on North Korea. However Trump abandoned those remarks, calling them "a little boring."
Instead, he fed off the friendly crowd of ultra-conservative supporters who ate up Trump's attacks on immigrants, Democrats and even what appeared to be a dig at Sen. John McCain (R-Ariz.) — who Trump seemed to call a "mess" for his vote against repealing the Affordable Care Act.
During the rambling address, Trump touched on the gun control debate that's raging after a mass shooting in Parkland, Florida, took the lives of 17 students and staff.
While Trump called for stronger background checks and to keep guns out of the hands of the mentally ill, he also stuck to his argument for arming teachers — who Trump said might actually be better than armed guards at preventing shootings.
"These teachers love their students, and these teachers are talented with weaponry and with guns, and that's, they feel safe — and I'd rather have somebody that loves their students and wants to protect their students than somebody standing outside that doesn't know anybody and doesn't know the students, and frankly, for whatever reason, decided not to go in," Trump said, referring to the armed security guard at Marjory Stoneman Douglas High School who reportedly didn't enter the school while the shooter was inside.
Trump also used anti-immigrant rhetoric, again calling for the end of what he calls "chain migration" — in which family members can sponsor other family members to come to the U.S. Reports this week indicate that Trump's own wife, first lady Melania Trump, likely used this form of immigration to bring her parents to the U.S.
The speech began on a bizarre note, as Trump looked at an image of himself and said he "would love to watch that guy speak," and then showed the audience how hard he works to cover his bald spot.
The speech never got back on track from there.
Trump attacked his vanquished 2016 rival Hillary Clinton, leading the crowd to begin a "lock her up" chant.
Trump responded by indicating that Democrats "committed a lot of atrocities."
At one point, Trump read The Snake, a poem he often read during the 2016 campaign which he used as a metaphor, saying immigrants are deadly snakes who will hurt you if you let them into the country.
Only at the very end of his speech did Trump return to the North Korea sanctions he was meant to discuss, briefly saying that the sanctions would be tough before moving on.
"We imposed today the heaviest sanctions ever imposed on a country before," Trump said. "And frankly hopefully something positive can happen."