What Melania Trump wore her 57th week as first lady — the few quick times we saw her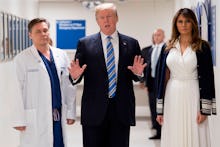 It's been a tough week for America. After the shooting at Marjory Stoneman Douglas High School in Parkland, Florida, that left 17 people dead, there's been an intense conversation about guns in this country, and just how far our right to bear arms extends.
While the Trump White House continued to deal with this crisis, and students at Stoneman Douglas continued to speak out and organize, Melania Trump appeared just a few times.
This is what she wore:
Friday, Feb. 16: All white for a Florida hospital visit
On Feb. 16, Trump and her husband visited a hospital in Florida that was treating a number of those wounded in the Parkland shooting. For the visit, she wore a long white dress with a belt at the waist, and a blue and cream Ralph Lauren cashmere cardigan.
Monday, Feb. 19: An all-black outfit for leaving West Palm Beach
After the weekend in Florida, Trump and her family left Mar-a-Lago in South Florida in an all-black outfit with boots. She arrived in the Washington area later that day in the same outfit, but just a bit more bundled up with a beanie.
Friday, Feb. 23: A black and gold ensemble for meeting with Australia's prime minister
On Friday, Trump continued her trend of dressing in mostly black, wearing a black and gold jacket from her fav brand Dolce & Gabbana with matching gold metallic snakeskin heels when meeting with the Australian prime minister and his wife, Lucy Turnbull, at the White House.
You can see previous recaps of what Melania Trump wore here.