Gucci gets called out for showing turbans on white models at Milan Fashion Week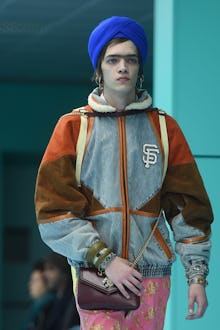 While there were plenty of completely unexpected things on the Gucci runway show at Milan Fashion Week on Wednesday — severed heads, baby dragons and nipple tassels, to name a few — one accessory caused more controversy than all the others.
During the show, a number of models walked the runway wearing blue turbans, which people immediately thought looked strikingly similar to dastaars, or turbans associated with the Sikh religion.
Other items in the show that bordered on cultural appropriation included bindis and a headdress that mimicked East Asian architecture.
The turbans have gotten the most attention, with an outcry on Twitter from people offended by Gucci designer Alessandro Michele for not only trying to pass off this headdress as a fashion accessory, but also for using non-brown models to model it.
Actor Avan Jogia was one of the first to explicitly call out the brand on Twitter. "I mess with you guys," Jogia wrote. "But this isn't a good look for you. Could you not find a brown model?"
Posting a picture of an Asian model wearing the headdress, Jogia continued: "Please, other people of color, this happens to all of us. Say something even if it doesn't apply to you personally. I got you, if you got me."
Activist and entrepreneur Harjinder Singh Kukreja also wrote about the turbans on Twitter.
"Dear Gucci, the Sikh turban is not a hot new accessory for white models, but an article of faith for practicing Sikhs," he wrote. "Your models have used turbans as 'hats' whereas practicing Sikhs tie them neatly fold-by-fold. Using fake Sikhs/turbans is worse than selling fake Gucci products."
Plenty of others found it offensive, too, especially because of the discrimination Sikh people have faced because of their turbans.
"My grandpa was recently on a walk in his own neighborhood with his friends and was harassed with racial slurs by teenage white boys who threw water bottles at him [because] he wears a turban," Twitter user @aveneet2001 wrote. "But when Gucci does it, it's called 'fashion.'"
Mic has reached out to Gucci for comment and will update this post if we hear back.