Unreliable Sources: A look at the worst media moments this week about the Florida mass shooting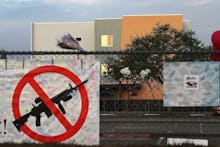 The news this week was dominated by an onslaught of reporting on the Feb. 14 school shooting in Parkland, Florida, that left 17 dead and has now galvanized students across the country demanding change to gun laws. Across the media landscape this week, some reporting and commentary on Parkland was rife with mischaracterizations or flat-out falsehoods.
Here's a look at some of the more cringeworthy takes and media mistakes from this week.
CNN contributor promotes George Soros conspiracy theory on-air
Spurred into action by the deadly rampage in Parkland, teenage survivors have launched an aggressive campaign to push for gun control legislation in Florida and nationally. Their calls to action — including school walkouts, speeches, demonstrations outside of government buildings and a widely publicized town hall on CNN on Wednesday — have dominated news coverage.
The teen survivors, in their vocal crusade for gun control, have upset a number of conservative pundits and opponents of gun legislation. This week more than a few of them, with help from some far-right media sites, have promoted baseless conspiracy theories about the teens — including one falsehood that they are in fact "crisis actors" and another that the student survivors are being coached by Democrats to push a political agenda.
On Tuesday, CNN contributor Jack Kingston, a former Republican congressman from Georgia and former member of the Trump campaign, joined the fray and appeared on the network to promote his evidence-free theory that these student survivors are being manipulated to attend events planned by political groups. He also suggested Democratic billionaire donor George Soros may be involved.
CNN host Aliysn Camerota asked Kingston to explain a tweet he had posted several days prior. The tweet in question linked to a Feb. 17 USA Today article about students who planned to walk out of classes nationwide to advocate for changes to existing gun control policy.
"Really?" Kingston had tweeted. "'Students' are planning a nationwide rally? Not left wing gun control activists using 17yr kids in the wake of a horrible tragedy?" The text was followed with several hashtags that referenced Soros and the Democratic National Committee.
On CNN, Camerota asked Kingston about the tweet. "You're serious?" she asked. "You think these kids aren't acting on their own volition?"
Kingston took the opportunity to double down on the conspiracy.
"I think it's a horrible tragedy, and I am heartbroken that young people have gone through this, and I hope that it never happens again," Kingston responded. "But I also know that their sorrow can very easily be hijacked by left-wing groups that have an agenda. … Do we really think 17-year-olds on their own are going to plan a nationwide rally?"
"I would say to you very plainly that organized groups that are out there like George Soros are always ready to take up the charge, and it's kind of like instant rally, instant protest, and those groups are ready to take it to the streets," he added.
Camerota pushed back, accusing Kingston of doubting the students' sincerity and telling him the idea was "silly." But Kingston dug in, saying high school students "probably do not have the logistical ability to plan a nationwide rally without it being hijacked by groups that already had the pre-existing anti-gun agenda."
"I just have a hard time believing it," he said.
Her pushback felt similar to another incident earlier in February, when Camerota invited Holocaust denier and former member of the American Nazi Party Arthur Jones, the only Republican candidate in an Illinois congressional district, onto the program. That segment quickly devolved into a shouting match.
In similar form, Camerota asking Kingston about the conspiracy gave him a massive platform to spread disinformation.
It's worth asking why CNN producers invited Kingston on in the first place, with what seems like the express purpose of confronting him about a conspiracy theory he was sure to defend. Why Kingston remains a contributor to the network, if his primary purpose on CNN seems to be stoking controversy and by sparring with show hosts, is also questionable.
Emails to two CNN spokespeople requesting comment on Kingston's remarks and his status with the network went unreturned.
Major platforms allow Parkland conspiracy theories to float
Conspiracies seem to bubble up any time there is a horrific tragedy, and the Parkland shooting is no different. And on the platforms on which major news is shared and analyzed — like Twitter, Facebook and YouTube — conspiracies about the events were not only present this week, but amplified by algorithms.
On Facebook, hoax stories and posts from individuals claiming to provide evidence that shooting survivor David Hogg, a Marjory Stoneman Douglas High School student who has become a frequent interviewee and advocate of gun control reform, was a "crisis actor" spread far and wide on the site — with one post being shared more than 110,000 times, according to BuzzFeed News.
On YouTube, a video promoting the same false conspiracy made it to the top of the trending videos list on the platform. It stayed there for hours, attracting more than 200,000 views before YouTube removed it by Wednesday at noon, according to the New York Times.
On Twitter, some users were recommended posts and links that promoted conspiracy theories alleging that Hogg was an actor, not a school student.
The problem of tackling disinformation on major platforms is massive and fraught with logistical challenges and ethical questions. But the platforms were slow to respond and seemed unprepared to handle the problem, a discouraging sign.
On Facebook, some conspiracy videos and posts were delisted from the service's Trending section. A spokeswoman for the company sent a statement from Facebook's head of content policy to Business Insider saying the hoax content would be deleted.
CNN reported on Friday that YouTube had given the right-wing conspiracy site InfoWars a warning for posting a video alleging that Hogg was an actor, which the company said violated its rules prohibiting harassment and bullying. The company has a three-strike policy against content that violates its rules. Some journalists were quick to point out that InfoWars has a history of posting hoax content that may violate YouTube's policies.
While it's no easy task, the responses from the platforms after the conspiracies were found to be promoted haven't been encouraging. BuzzFeed News' Charlie Warzel wrote Thursday that the platforms "are proving themselves incompetent when it comes to addressing [misinformation] — over and over and over again."
CNN's "scripted question" scandal that wasn't
On Thursday, CNN found itself embroiled in scandal following a jaw-dropping claim from a Parkland shooting survivor that the cable news network, preparing for a widely publicized town hall about gun control with the students from Marjory Stoneman Douglas High School, had scripted questions for the event.
Colton Haab, a 17-year-old Junior ROTC member who told CNN he helped shield other students during the shooting, told local news station WPLG that he had originally written questions for the town hall, but that he declined to participate after finding out he would not be able to ask the questions as he prepared them.
"It ended up being all scripted," Haab said.
The story had all the making of a scandal. CNN — already loathed by conservatives — seemed to be trying to change the narrative around the highly contentious subject of gun control. The WPLG interview was picked up in national news and right-wing media and quickly became a point of outrage, as well as a jumping-off point for conspiracy theories about the Parkland students who did participate in the town hall.
When CNN denied it had scripted anything, the story became even bigger. A major cable news network accusing a high school student — and recent survivor of a school shooting — of lying?
Haab eventually made it to the Thursday evening episode of the Fox News program Tucker Carlson Tonight to explain his side of the story. What Haab's appearance proved was that WPLG and other news outlets should have gotten more details before an otherwise reasonable objection from a high school student was used to suggest the markings of a conspiracy.
As the Washington Post's Erik Wemple detailed in a Friday column, Haab's explanation of what happened is relatively mundane. According to Wemple's timeline, Haab said he was contacted by a CNN producer and asked to "write a speech" for the upcoming town hall on gun control. The CNN producer later asked for questions instead of a speech; Haab sent over four questions, including, "Have we thought about having a class for teachers who are willing to be armed trained to carry on campus?"
The producer ultimately proposed that Haab ask that question to Florida Sen. Bill Nelson. He was asked to precede this question with a sentiment that Haab had shared on an appearance on Fox & Friends prior to the town hall.
The proposed question, reported by Wemple: "Sen. Nelson, if [Marjory Stoneman Douglas High School football coach Aaron Feis] had had his firearm in school that day, I believe that he could have most likely stopped the threat. Have we thought about having a class for teachers who are willing to be armed trained to carry on campus?"
Haab declined the CNN producer's request. Per Wemple's column, Haab's father objected to the reading of one short question and wished his son would be able to share more of his thoughts on the matters at hand.
The reaction, of course, is entirely reasonable: Haab wanted to share more of his opinions and ask more questions. When he found out this wouldn't be the case, he declined to participate.
But CNN's "scripted" question seems to be a decision made more in the interest of time constraints rather than to shape a nefarious narrative. And the question CNN reportedly proposed Haab ask was, ultimately, as Haab had written it.
"That [CNN] worked with a high school student to winnow his thoughts into one simple and powerful question for a Democratic senator sounds like the inverse of a scandal," Wemple wrote.
Fox News giving Haab a place to set the story straight is commendable — even if it didn't end up being as explosive as previously thought. But this should be a reminder: Members of the media should always ask follow-up questions.