Exclusive: Chloe Kim's Kellogg's Corn Flakes box broke a record by selling out in 7 hours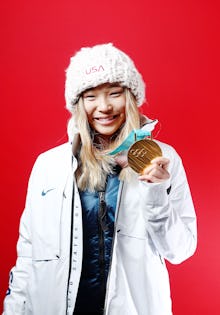 To follow Mic's coverage of the Winter Olympics, visit our Olympics hub.
Seventeen-year-old Chloe Kim became the youngest female snowboarder to win Olympic gold by putting on a showstopping performance in Pyeongchang, South Korea. But she's not done breaking records: The limited-edition Kellogg's Corn Flakes box with her smiling face on it sold out in record time.
On Wednesday night, the Chloe Kim "Gold Medal" box was announced on The Tonight Show Starring Jimmy Fallon and became available online. It sold out in seven hours, according to Sam Minardi, director of brand marketing at Kellogg Company. "That is a record," Minardi said in an email.
Nevertheless, Kim posted a photo of the box to her Instagram on Friday morning, introducing the partnership by writing, "You all know that I think about food way too often..." possibly alluding the fact that she gained a reputation for tweeting about food in between her halfpipe runs at the Olympics and also Instagramming food photos in her spare time.
"All our Gold Medal boxes, including Chloe's, are commemorative and available in limited quantities for only a short time," Minardi said. So if you didn't snag a box, it appears you are out of luck — until Kim returns for the next Olympics, that is.