Why the self-pour beer revolution is here to stay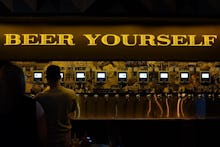 Forget BYOB. Instead, PYOB — pour your own beer — is the new term in town. And those who have suffered through the frustration of flagging down a busy bartender for a simple draft pour have many reasons to get excited about this brewing trend.
The concept of a self-pour bar is simple: After being ID'd, you open a tab. Then, depending on the bar, you'll likely receive either an electronically linked bracelet that has your credit card information pre-loaded on it, or a radio frequency identification card that's roughly the size of a credit card and can easily be stashed in a pocket. Grab a fresh glass, scan your bracelet or card in front of the screen above your tap, then pour as much or as little as you want. The screen will tell you the cost per ounce, and typically has additional details like tasting notes.
You'll pick from a variety of constantly rotating taps — Pour Taproom in St. Petersburg, Florida, for example, has 85 choices, netting it the title of largest self-pour bar in the U.S. Some self-pour establishments, like Tapster in Chicago, even allow you to set a predetermined spending amount to avoid running a high tab without realizing. (There's often cider, wine, and even draft cocktails to choose from too, in case beer isn't your schtick.)
Self-pour beer bars have been open in the U.S. as early as 2013. While the Brewers Association, the trade group supporting independent brewers, does not collect data on how many bars allow customers to pour their own drinks, the concept appears to be spreading across the U.S., everywhere from San Diego to Denver to Chicago to Kansas City to New York City. Self-pour bars are an inventive way to introduce new-to-craft-beer drinkers to the market, who are less likely to commit to a full pint if they aren't familiar with a certain style of beer, Nate Tomforde, co-founder of Pour Taproom, which has locations in eight cities across the U.S., said.
"A customer can try eight different beers, drink the equivalent of two bottles, and spend about $10," Tomforde said in an email. Plus, he noted that self-pour beer bars allow breweries more exposure — he estimated that, compared to a regular bar, breweries reach three times the amount of people in this type of establishment.
While trying more styles of beer sounds like a dream for novice beer drinkers, Nicole Erny, a master cicerone in the San Francisco Bay Area, has her reservations. "I have concerns about the masses pouring their own beers. It isn't rocket science, but there is an art to pouring beer," she said in an email. Erny said the top self-pour bars don't skimp on beer hosts — aka the reimagined role of bartenders — that are on hand to give suggestions. "The best ones I've been to have plentiful staff ready to tell you about the beer and help you learn to pour," she said.
Plus, Erny said that a "sip test" — downing one or two ounces of a beer before moving on to the next one — is no way to properly decide whether that specific brew is up your alley. "Sip tests show you what tastes good as a small sip, not what tastes good for a whole glass," she said, comparing the scenario to New Coke, a beverage from Coca-Cola that only stayed in production for three months: "In small sips, people preferred the lower carbonation [and] the sweeter and more citrusy [flavor]," Erny said. "[But] when people tried to drink a whole can, they hated it." That's why she recommends giving yourself several ounces to get to know a beer before making your next pour.
Letting customers pour cold ones comes with a steep price tag
Though several owners said the self-pour bars are costly to construct, they're hoping the investment pays off by reducing beer waste. Kyle Kensrue, Dave Plate and Hari Nathan Kaylan, co-owners of Randolph Beer in New York City, which opened a first location in Williamsburg in late 2016 and a second in Dumbo in 2017, said the jury is still out. The co-owners said that the Williamsburg location has not yet reached profitability after 17 months of being open. "We do think it has generated some nice buzz and customers like it, [but] it's hard to quantify these positives. Whether or not it ends up a positive return on investment remains to be seen," they said in an email.
The Randolph Beer owners also noted that their PYO beer walls were "expensive and difficult to implement" because they needed to invest in expensive tablets, networking hardware, and a large walk-in, custom-built refrigerator that could accommodate the screens for each tap. Dave Pike, owner of three Barrel Republic locations in San Diego, echoed this sentiment, noting that the biggest cost is due to the technology associated with the screens hanging above each tap.
Erny also mentioned that PYOs face the same beer quality challenges that regular bars face — correctly cleaning beer lines to flush out old beer and make way for new brews, refrigerating beer to increase its lifespan, and thoughtfully curating the tap list to keep customers' taste buds entertained, to name a few.
Nevertheless, Roman Maliszewski, founder of Tapster, said in an email interview that PYOs are a solid investment and can be efficient businesses. Tomforde agreed. "We have very little [beer] waste — in most bars and restaurants, 15 to 20% of a beer keg is lost due to bad pours or theft, but our system keeps track of every ounce," Tomforde said.
The owners of Randolph Beer don't think that the trend of self-pour is going to disappear anytime soon. "Whether it's the version we've put in place or a future, better model, the trend toward more technology-enabling automation is not going to stop," they said. "Self-pour isn't a craft beer thing. It's a service industry — and every industry — thing."
Maliszewski agreed it's here for the long-haul. "We are helping new beer lovers learn more about what they like (and dislike), while still satisfying the sophisticated beer lover. Empowering customers with the ability to pay-by-the-ounce is more than a trend — it makes sense," he said. "I believe in the self-pour revolution."