Manafort accused of paying off former European politicians in another superseding indictment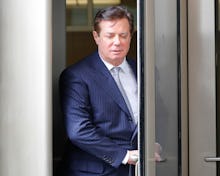 Paul Manafort — who chaired President Donald Trump's presidential campaign in the summer of 2016 — allegedly paid off former European politicians to take favorable positions to Ukraine, according to a new superseding indictment handed down by special counsel Robert Mueller on Friday.
The 31-page indictment includes five charges: conspiracy against the United States; conspiracy to launder money; unregistered agent of a foreign principle; false and misleading FARA statements; and false statements.
The indictment was unsealed shortly after Manafort's longtime associate, Rick Gates, pleaded guilty to charges of conspiracy against the U.S. and false statements Friday and agreed to cooperate with the special counsel's Russia probe.
The two had been hit with a 32-count superseding indictment earlier in the week, which alleged that they laundered more than $30 million.
That charge is included in the new indictment released Friday. But the latest court filing paints a broader picture of Manafort's work on behalf of the Russia-friendly Party of Regions and its leader, former Ukrainian President Viktor Yanukovych, which included a "multi-million dollar lobbying campaign" in the U.S. and the "[direct] lobbying" of a member of the U.S. Congress who "had Ukraine within his subcommittee's purview," according to the special counsel's office.
That member of Congress did not appear to be named in Friday's indictment.
In 2012, the court filing alleges, Manafort and Gates, working for Yanukovych, "secretly retained a group of senior European politicians to take positions favorable to the Ukraine, including by lobbying in the United States." The so-called "Hapsburg group" was to seemingly give independent assessments of actions taken by the Ukrainian government, despite being paid lobbyists for Yanukovych and the Party of Regions.
"In 2012 and 2013, MANAFORT used at least four offshore accounts to wire more than 2 million euros to pay the group of former politicians," according to the indictment.
After Gates' guilty plea, Manafort remained defiant, claiming he is innocent and promising to fight the charges against him.
"Notwithstanding that Rick Gates pled today, I continue to maintain my innocence," Manafort said in a statement. "This does not alter my commitment to defend myself against the untrue piled up charges contained in the indictments against me."