Companies distance themselves from NRA following pressure over Florida school shooting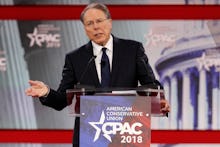 In the wake of the deadly shooting at a Florida high school last week, several high profile corporations in recent days have cut ties with the National Rifle Association — the powerful gun lobby that survivors have rallied against since the massacre.
Big names in insurance, car rentals and cybersecurity are among those who have ended their relationships with the NRA amid mounting pressure by gun control advocates, including survivors of the Feb. 14 shooting at Marjory Stoneman Douglas High School in Parkland, Florida, that left 17 dead and more than a dozen wounded.
Students have led the push for gun reform in the wake of the mass shooting, calling out lawmakers on national television and organizing a nationwide march demanding "action to stop the epidemic of mass school shootings that has become all too familiar."
"The people in the government who are voted into power are lying to us," student Emma Gonzalez said in a powerful speech Feb. 17. "And us kids seem to be the only ones who notice and are prepared to call B.S."
David Hogg, another of the surviving students, has helped lead the charge against companies partnered with the powerful gun lobby.
A number of prominent companies — including Amazon and FedEx — still have partnerships with the NRA.
The students have received pushback from some conservatives in recent days — and some, including Hogg, have been the victims of ugly smear campaigns by far-right conspiracy theorists.
In a fiery speech at the Conservative Political Action Conference in Maryland on Thursday, NRA CEO Wayne LaPierre defended his organization amid the groundswell of backlash and hit gun control advocates for attempting to "eradicate all individual freedoms."
"As usual, the opportunists wasted not one second to exploit tragedy for political gain," LaPierre said, echoing NRA spokesperson Dana Loesch who, in an earlier speech, said that the media "love[s] mass shootings."
"We will not be gaslighted into thinking that we were responsible for a tragedy that we had nothing to do with," Loesch told the CPAC crowd.
President Donald Trump — who has received millions of dollars from the NRA — has said in recent days that he supports stronger background checks, raising the minimum age of purchase for weapons from 18 to 21 and ending the sale of bump stocks. But, he has also called for the arming of teachers and other school officials — an idea that has been met with significant pushback.
Trump has also praised the NRA and its leadership amid heavy criticism of the organization, tweeting that "many people don't understand, or don't want to understand" that LaPierre, NRA Institute for Legislative Action principal strategist Chris Cox and others at the lobbying outfit are "Great People and Great American Patriots."
"They love our Country and will do the right thing," Trump tweeted Thursday, a day after meeting with shooting victims. "MAKE AMERICA GREAT AGAIN."