Trump's military parade is but the latest in a long tradition of performative American patriotism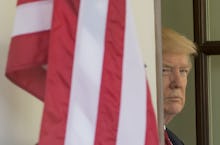 President Donald Trump seems to be getting the military parade he wants.
As Politico reported Friday, Trump has instructed the Pentagon to mark its calendars for next Veterans Day and start organizing the massive spectacle.
The notion of the parade — which officials are planning on holding Nov. 11, according to a memo by national security adviser H.R. McMaster — was met with a collective groan when the Washington Post reported earlier on Trump's desire for one, which he's apparently had since witnessing France's Bastille Day celebration in France last year.
Some complained about the wastefulness of the display's estimated $30 million price tag. Others, pointing to dictators' fondness for such parades throughout history, linked the planned pageant to Trump's authoritarian tendencies.
"Trump acts more like dictator than president," Rep. Jim McGovern (D-Mass.) said of the idea in early February. "Americans deserve better."
Of course, authoritarian regimes aren't the only ones who like to throw military parades — France's Bastille Day celebration, which reportedly inspired Trump's spectacle, features the oldest and biggest military parade in Europe each July. And, as David Jackson noted in USA Today earlier this month, such displays were relatively commonplace in the United States until about the middle of the 20th Century — usually to mark the end of conflicts.
Because of his demagoguery and the very real threat he poses to longstanding democratic institutions, it can be easy to view Trump's exhibition as being part of a lineage of military parades that include those of the Third Reich and North Korea.
But the planned parade may actually fit more comfortably into a more recent tradition, that of a certain flavor of performative patriotism that has flourished in the U.S. in the more than decade and a half since 9/11 — one that fixates on the symbols of the U.S., using them as a shield against criticism and a weapon with which to bludgeon political opponents.
Flag pin controversies and athletes kneeling for anthem
Trump has put his own stamp on it, but he is not the first to engage in acts of performative patriotism.
In the years immediately after the terrorist attacks of Sept. 11, 2001, the Bush administration wrapped itself in the flag to silence its critics.
In 2003, then-President George W. Bush stood on an aircraft carrier before a large banner reading: MISSION ACCOMPLISHED.
"Major combat operations in Iraq have ended," Bush declared, extremely incorrectly. "In the battle of Iraq, the United States and our allies have prevailed."
It was an empty sentiment — and shown by history to be almost absurdly false. But, heading into the 2004 presidential election, the president's allies cast his critics as anti-American monsters dead-set upon imperiling the troops.
"While young Americans are dying in the sands of Iraq and the mountains of Afghanistan, our nation is being torn apart and made weaker because of the Democrats' manic obsession to bring down our commander in chief," former Senator Zell Miller, a conservative Democrat, said at the Republican National Convention in 2004. "[John] Kerry would let Paris decide when America needs defending. I want Bush to decide."
"When patriotism is impugned, the facts go out the window," William Saletan observed in Slate at the time, noting that Kerry, Bush's Democratic opponent, fought in Vietnam. "Your Silver Star, Bronze Star, and three Purple Hearts are no match for the vice president's five draft deferments."
Performative patriotism also figured into the 2008 presidential election, when opponents of the future president took Barack Obama to task for failing to wear a flag pin on his lapel.
As Time noted back then, the flag pin had come to popularity in the 1960s and 1970s as a symbol of Republican politicians' opposition to anti-war demonstrators of the time. After some falls and rises in popularity, the pins soared back into prominence following 9/11, when Bush and all his aides donned them.
In October 2007, a reporter asked then-candidate Obama why he didn't have the U.S. flag pinned to his jacket.
"My patriotism speaks for itself," Obama said. "The truth is that right after 9/11, I had a pin. Shortly after 9/11, particularly because as we're talking about the Iraq war, that became a substitute for, I think, true patriotism, which is speaking out on issues that are of importance to our national security."
"I decided I won't wear that pin on my chest," he continued. "Instead I'm going to try to tell the American people what I believe what will make this country great and hopefully that will be a testimony to my patriotism."
That answer kicked off a long saga that included criticism from the likes of Bush adviser Karl Rove, who accused him of "belittling all those who care to wear our country's flag."
"We here have news for Barack Obama," Rove said at the time. "The values of those people you diminished are the values of America."
The flag pin fiasco wouldn't be the only time Obama had his patriotism questioned.
In 2014, he sparked controversy when he saluted Marines with a coffee cup in hand, which conservatives, including those on the soon-to-be-influential Breitbart News, dubbed "disrespectful" — a dustup some former military members at the time called "ridiculous."
Of course, Trump has consistently made a show of how patriotic he is and how much he supports the military — despite having never served and famously mocking Sen. John McCain (R-Ariz.), one of his most vocal conservative critics on Capitol Hill, over his military record.
"He's a war hero because he was captured," Trump said of McCain in 2015. "I like people who weren't captured."
Trump has made a point of vowing to put "America first" — and of suggesting that anyone who disagrees with his divisive agenda does not share the "love" he and his supporters feel for the country.
This has been clearest in his frequent attacks on the NFL and its mostly black players, many of whom have protested racial injustice and police brutality during the last couple of seasons by kneeling during the pregame national anthem.
"The issue of kneeling has nothing to do with race," Trump tweeted in September. "It is about respect for our Country, Flag and National Anthem. NFL must respect this!"
Trump's unhinged attacks on players' patriotism received widespread backlash, including from sportscaster Bob Costas, who last fall blasted Trump from promoting what he described as "bumper-sticker" patriotism.
"Patriotism comes in many forms and what has happened is it's been conflated with a bumper-sticker kind of flag-waving and with the military only so that people cannot see that, in his own way, Colin Kaepernick, however imperfectly, is doing a patriotic thing," Costas said. "And so too are some of these other players."
But Trump has continued to promote his allies as "Great American Patriots" and to denigrate those he disagrees with as unpatriotic.
Sarah Huckabee Sanders, the White House press secretary, said earlier this month that the military parade would be a "celebration" of "America's great service members who risk their lives every day to keep our country safe."
As Eliot A. Cohen observed in the Atlantic, though, such a parade could amount to a "false claim to a monopoly of courage and civic virtue" and a "vaunting not only of might but of brutality" — all at the expense of actually honoring those who serve.
"What parades do not do is adequately celebrate today's soldier and his or her spirit," Cohen wrote. "What they do not show is the personal appreciation Americans should appropriately offer men and women who have repeatedly left family behind for danger and boredom, often leaving pieces of who they once were on the battlefield."