Trump mocks John McCain at CPAC — weeks after promising the ailing senator's daughter he wouldn't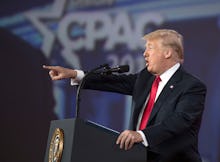 President Donald Trump on Friday took a mean-spirited jab at Sen. John McCain (R-Ariz.) — just over two weeks after promising the Arizona Republican's daughter that he would stop attacking her father.
"Remember, one person walked into a room when he was supposed to go this way, and he said he was going this way, and he walked in and went this way, and everyone said, 'What happened? What was that all about?'" Trump said, mimicking McCain's now-famous thumbs-down that killed the GOP's "skinny repeal" health care bill in July. "Who was that? I don't know. I don't know. I don't want to be controversial so I won't use his name."
The comments came during a speech at the Conservative Political Action Conference on Friday, and drew a chorus of boos against McCain among the Republicans in attendance.
"What a mess," Trump said.
With his thinly-veiled jab at McCain, who is battling brain cancer, Trump broke a promise he apparently made to the Arizona Republican's daughter, Meghan McCain, earlier this month.
In a Feb. 7 interview with Politico's Women Rule podcast, the View co-host and political analyst said she'd spoken with Trump and that she believed him when he vowed to stop bashing her ailing father — a frequent Republican critic of the president.
"I don't believe he would go there again," she said.
Trump has a long-history of attacking McCain.
In 2015, at the beginning of his presidential campaign, Trump infamously mocked the war hero's military service.
"He's a war hero because he was captured," Trump said in an appearance at the Family Leadership Summit at the time. "I like people who weren't captured."
As president, he has repeatedly bashed the senator — especially over his health care votes, which he has said "let Arizona down."
Last fall, Axios reported that Trump has been "physically mocking" McCain in private, mimicking his thumbs-down — just as he did at CPAC this week.
Meghan McCain on Friday said that she would wait to address the latest potshots from the president until Wednesday, when her mother, Cindy McCain, joins her on the View. But she did express disappointment with Matt Schlapp, the chairman of the American Conservative Union, which organizes CPAC, for tweeting that her father's votes on health care were "worth a boo."
"Given what my family is going through right now and what my father has given to his country I would expect better from both you and the crowd, Matt," the younger McCain tweeted Saturday. "But please, continue making excuses for the inexcusable."