This week in Trump-Russia news: Mueller crashes through Gates as pressure mounts on Manafort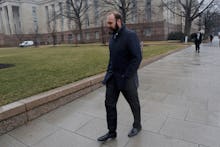 Rick Gates — who helped run President Donald Trump's campaign in 2016 — has become the latest former member of the president's inner circle to be brought down by Robert Mueller's probe.
On Friday, after much anticipation, the president's former deputy campaign chairman finally pleaded guilty to charges of conspiracy against the United States and making false statements — and essentially confirmed that he's cooperating with the special counsel.
That could be bad news for the White House, depending on what Gates saw working on Trump's campaign and inaugural committee and communicating with his administration in 2017. But it almost certainly is bad news for Paul Manafort, Gates' longtime associate, who was hit with new charges hours after the guilty plea came on Friday afternoon.
Here's everything that went down in a wild week in the Russia investigation:
On Thursday, Mueller hit Gates and Manafort with a combined 32 charges in a superseding indictment, alleging — among other things — that the pair had laundered over $30 million together.
To Patrick Cotter, a former federal prosecutor, that news seemed to signal that the long-rumored negotiations between Mueller and Gates had broken down.
"It is hard to understand why Mueller would file a new superseding indictment with more serious charges against someone on Thursday if a plea was set for Friday," Cotter said in an email. "The normal practice is to file a less serious charge by way of information for a cooperator; you then let them plead to that instead of the more serious charges in the original indictment. Odd, to say the least."
But on Friday afternoon, Gates headed into federal court in Washington, D.C., and admitted to two charges: conspiracy against the U.S. for his participation in a number of Manafort's schemes, and misleading investigators about the nature of a 2013 meeting Manafort took with a lobbyist and an unnamed member of the U.S. Congress.
In doing so, he became the third former Trump official known to be cooperating with the special counsel after former foreign campaign aide George Papadopoulos and former national security adviser Michael Flynn.
Gates served as Manafort's deputy during the summer of 2016 and remained with the Trump campaign after Manafort resigned in a major staff shakeup that August. After Trump's victory, Gates served on his inaugural committee and later founded a pro-Trump nonprofit called America First Policies. It is believed that he remained in contact with the White House at least through the first months of Trump's presidency.
Before the guilty plea, the White House dismissed the impact that Gates' flipping could have on Trump and those around him.
"There'd be no anxiety here," a spokesperson said last week.
Mueller turns screws on Manafort
There should be some anxiety for Manafort, though.
Trump's ex-campaign chairman was immediately hit with a superseding indictment on Friday after Gates entered his plea — new charges that accused him of paying former European politicians to lobby the U.S. on behalf of pro-Russian interests in the Ukraine.
Manafort — who was first indicted with Gates back in October — now faces five charges: conspiracy against the United States; conspiracy to launder money; unregistered agent of a foreign principle; false and misleading FARA statements; and false statements.
He continued to maintain his innocence Friday, though, taking a veiled dig at Gates in a statement and promising to defend himself against "the untrue piled up charges contained in the indictments against me."
"Putin's favorite congressman" faces scrutiny
Documents relating to both Gates' guilty plea and Manafort's superseding indictment made reference to a U.S. representative who "had Ukraine within his subcommittee's purview."
Manafort is accused of directly lobbying that unnamed congressman on behalf of the Russia-friendly Party of Regions and its leader, former Ukrainian President Viktor Yanukovych — and Gates pleaded guilty to falsely telling investigators that Manafort had informed him that Ukraine was never brought up at the 2013 meeting.
As Bloomberg noted on Friday afternoon, public records seem to indicate that the lawmaker in question was Rep. Dana Rohrabacher (R-Calif.) — whose warmth toward Russia has earned him the monicker "Putin's favorite congressman."
"There's two people I think Putin pays," Rep. Kevin McCarthy (R-Calif.) privately mused to GOP leaders in 2015. "Rohrabacher and Trump."
Rohrabacher's inclusion in the documents on Friday has made him a figure in Mueller's ongoing investigation into possible collusion between the Trump campaign and the Kremlin.
The California Republican on Friday denied any wrongdoing through a spokesperson, who told HuffPost that "the meeting was a dinner with two longtime acquaintances" and that "the congressman has listened to all points of view on Ukraine."
Son-in-law of Russian oligarch admits to lying
Gates had been rumored for days to be brokering a plea deal with Mueller.
That speculation appeared all but confirmed Tuesday when the special counsel indicted Ukraine-connected attorney Alex Van Der Zwaan — kicking off a busy week of news in the Russia probe.
Van Der Zwaan, the son-in-law of a Russian oligarch named in the controversial Steele dossier, pleaded guilty to a charge of making false statements.
He admitted to lying to authorities about his most recent contact with Gates, misrepresenting his involvement in a 2012 report about former Ukrainian Prime Minister Yulia Tymoshenko and failing to produce emails the special counsel's office had requested.
"All of the recent developments are intended to tighten the pressure on targets of the investigation" — such as Manafort — "to cooperate," Cotter said in an email. "The Van Der Zwaan prosecution is meant to warn potential witnesses ... even tangential witnesses ... that lying will get you prosecuted."
Trump blames Obama for Russian meddling
Trump, meanwhile, is continuing to push back against the Russia probe — and to cast blame for the interference in the 2016 election upon everyone but the Kremlin.
This week, he turned his ire to former President Barack Obama, questioning why his predecessor didn't "do something about Russian meddling" while it was going on in 2016.
"When I easily won the Electoral College, the whole game changed and the Russian excuse became the narrative of the Dems," Trump tweeted.
Trump has been trying to build his credibility on Russia since Mueller indicted 13 Russian nationals who allegedly participated in the interference last week — which removed whatever doubt still remained that the Kremlin sought to sway the 2016 election in Trump's favor.
Trump has previously suggested he believes Russia's denials of any wrongdoing — even implying, back in November, that he trusts Russian President Vladimir Putin over the "hacks" in his own intelligence community.
But he is now claiming that he "never said Russia did not meddle in the election" — and on Tuesday said that he had been "much tougher on Russia than Obama."
"Total Fake News!" he tweeted.
Probe standing in way of Kushner security clearance
Jared Kushner — Trump's son-in-law and senior adviser — is still operating on a temporary security clearance more than a year into his time in the White House.
And, according to reports, a big reason for that is the Mueller investigation.
Kushner has long faced calls to have his top-level security revoked over a number of omissions on his clearance applications.
And, sources told CNN, it is unlikely that Kushner will get permanent clearance as long as the Mueller probe continues.
Trump on Friday told reporters he would leave the question of Kushner's security clearance up to chief of staff John Kelly — who has come under fire in recent weeks for allowing ousted staff secretary Rob Porter to remain, and rise in influence, in the White House despite credible accusations of domestic abuse.
Democrats release Schiff memo
Democrats late Saturday released their rebuttal to the memo authored by Rep. Devin Nunes (R-Calif.), which had alleged misconduct by federal law enforcement in their surveillance of former Trump campaign aide Carter Page.
That earlier memo accused the FBI and Department of Justice of abusing its power by improperly relying upon a controversial dossier to obtain Foreign Intelligence Surveillance Act warrants against Page.
Trump claimed that memo cleared him of wrongdoing, tweeting upon its release that it "totally vindicates" him in the Russia probe.
But the memo left out vital information and was deemed misleading by its critics.
Democrats sought to rebuke the Nunes memo, but their response was blocked earlier this month by Trump, who slammed it as "very political and long."
But on Saturday, Democrats released a heavily-redacted version of their memo, which claimed their Republican counterparts had overstated federal law enforcement's reliance on the controversial Steele dossier, among "other distortions and misrepresentations."
"Some time ago, Republicans on our committee released a declassified memo that omitted and distorted key facts in order to mislead the public and impugn the integrity of the FBI," Rep. Adam Schiff (D-Calif.), ranking Democrat on the House Intelligence Committee, tweeted Saturday. "We can now tell you what they left out."