NRA spokeswoman Dana Loesch breaks with Trump on raising the age for semiautomatic weapon purchases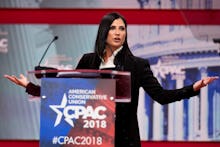 The recent deadly shooting at Marjory Stoneman Douglas High School in Parkland, Florida, has sparked a national debate, and even possible bipartisan action, on gun control.
But even as President Donald Trump has signaled his support for certain gun control measures, the National Rifle Association is opposing his proposed actions.
In the wake of the Parkland shooting, Trump has suggested that he would support raising the minimum age for purchasing a semiautomatic weapon, such as the one used in Florida. The age for purchasing such firearms, as well as other "long guns," is currently 18, even though individuals must be 21 to purchase a handgun. Unlicensed sellers can sell rifles and other long guns to customers of any age, the Giffords Law Center noted.
"Perhaps we'll do something on age, because it doesn't seem to make sense that you have to wait until you're 21 to get a pistol, but to get a gun like this maniac used in the school, you get that at 18," Trump said in an interview on Fox News Saturday. "I mean, that doesn't make sense."
During a White House meeting on Thursday, the president claimed that the NRA would back his proposed change to the age requirement.
"It should all be at 21," Trump said, as quoted by Politico. "And the NRA will back it."
The NRA, however, is remaining opposed to Trump's proposed plan. In an appearance Sunday on ABC's This Week, NRA spokeswoman Dana Loesch reiterated the organization's position on a potential age change.
When asked by host George Stephanopoulos to clarify that the NRA's position is that it does not want to raise the age requirement, Loesch replied, "That's what the NRA came out and said. That's correct."
"These are just things that he's discussing right now, I think that it's great that as president, he had all of these individuals, all of these constituents come into the White House, he had this listening session, he's really looking for solutions, he wanted to hear what they had to say, and that's what he's doing," Loesch said about Trump's proposed calls for gun control. "So far, nothing's been proposed yet, the NRA's made their position clear."
Loesch's Sunday comments echo the spokeswoman's past statements against raising the age requirement. On Friday, Loesch said on CNN that "raising the age is not going to solve psychosis," Politico reported.
Another gun control issue that Trump has thrown his support behind is banning bump stocks, an accessory that enables a semiautomatic weapon to mimic the functionality of an automatic one, which are largely banned under federal law. Trump released a memo Tuesday directing the Department of Justice to propose regulations that would ban the devices.
The president's memo continues an ongoing review that the Bureau of Alcohol, Tobacco, Firearms and Explosives is undertaking to determine whether they can regulate the devices under federal law. Though Trump is seemingly supporting the review as a way to ultimately ban the devices, the review may have little effect. The ATF has repeatedly said that it does not have the authority to ban bump stocks under current federal law, as the devices do not fit the legal definition of an automatic weapon.
The NRA has similarly called for the ATF to review the devices and said bump stocks should be subject to "additional regulations." Loesch clarified on Sunday, however, that an ATF review is all the NRA wants — not an actual ban on the devices.
"The NRA doesn't back any ban, the NRA has asked the ATF to do its job and make sure that these classifications are consistent," Loesch said Sunday.
One issue where the president and Loesch may agree, however, is when it comes to strengthening the existing federal background check system. The National Instant Criminal Background Check System is missing millions of records of criminal convictions that would prevent individuals from purchasing guns. As a result of the database's failings, Sutherland Springs shooting suspect Devin Kelley and other mass shooters were able to obtain firearms.
Trump has supported the Fix NICS Act, which would strengthen the existing system — a move that Loesch seemingly backed in her Sunday interview.
"Here's the problem, George," Loesch said Sunday. "Do you realize that right now — and politicians could change this today, they could change it tomorrow. Did you know that right now 7 million prohibited possessors can walk into a gun store and legally purchase a firearm? "
"People who have received due process, who through violent criminal behavior are illegally barred from purchasing and carrying firearms, people who have been adjudicated mentally unfit because they're a danger to themselves and others, they can right now go and buy a firearm because as it stands right now, only 38 states are reporting less than 80 percent of these convictions to the NICS system. That's huge."