Meet 10 black transgender figures from history who are models for resilience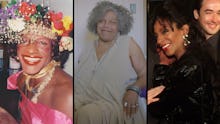 Carter G. Woodson — the co-creator of "Negro History Week," which later became Black History Month — believed the teaching of black history was of utmost importance because without it, black people in America stood no chance of survival.
"If a race has no history, it has no worthwhile tradition, it becomes a negligible factor in the thought of the world, and it stands in danger of being exterminated," he said.
No one recognizes the serious threat of erasure more than black transgender people in America. We're not only navigating anti-blackness; we're also targets for transphobia and misogyny. While Woodson's ideology was specific to race, it stands true for every intersectional layer of black trans identity. We don't have the ability to separate our race from our gender identity. Black trans liberation is still black liberation, and the African-American community at large can't move forward until black trans survival is just as much of a priority.
Though our lives are seen as disposable and we're often reduced to nothing more than a lit candle and a hashtag, we draw hope and strength from those who've come before us. Society may harshly deny the legitimacy of trans identity, but it cant deny our historical presence and perseverance.
The 10 black transgender figures listed below are a reminder that despite the circumstances, we can and will overcome adversity as a people.
Mary Jones
Jones was a trans woman living in New York City in the 1830s who made a living as a sex worker. Her clients were wealthy white men, and after she slept with them, she'd steal their wallets as a bonus. Most of them never reported the thefts because they didn't want their conservative peers to know they had a fetish for black trans women. She was eventually charged with grand larceny when someone turned her in to the police.
Jones was released after five years in prison, at which point she was arrested again for dressing as a woman. She served an additional five months.
Frances Thompson
Thompson was a trans woman and former slave who lived in Memphis, Tennessee, in the 1830s. Seven white men broke into Thompson's home that she shared with Lucy Smith, another former slave, and took turns raping them both. Thompson became the first trans woman to testify before a U.S. congressional committee in pursuit of justice. Ten years later, she was arrested for "transvestism," and the newspapers used the story to discredit her rape allegations.
Lucy Hicks Anderson
As a child, Anderson wore dresses and chose her name. Her mother took her to a physician who advised her mother to raise Anderson as a girl. Anderson, who was born in Kentucky, graduated and started traveling and working as a domestic worker. She married her first husband in 1920 and saved enough money to open up a brothel in Oxnard, California. She divorced her husband in 1929 and remarried in 1944.
The Ventura County district attorney found out she was trans and the courts charged her with perjury for illegally signing a marriage license as a trans woman. She was given 10 years probation instead of going to prison. Since Anderson had received allotment checks as the wife of a soldier in the U.S. Army, the courts convicted both her and her second husband of fraud in 1946. and she was sent to prison. When she got out of prison, she was forced to leave Oxnard; she lived in Los Angeles the rest of her life.
Willmer "Little Axe" Broadnax
Broadnax was a trans man who moved to Southern California from Houston with his brother to join the Southern Gospel Singers. He and his brother later formed their own group called "Little Axe and the Golden Echoes." Eventually the brothers parted ways and joined various other groups throughout their musical careers. No one knew Broadnax was assigned female at birth until he died in either 1992 or 1994.
Jim McHarris
McHarris was a trans man born in Mississippi. He was sent to foster care after his parents died. He transitioned in his early teens and began traveling the country taking various jobs. He was notorious for being a ladies' man and was engaged to be married when one evening, he was pulled over for problems with his lights and the officers found an open bottle of whiskey in his car. During the pat-down, he revealed his birth sex to the officers. The police didn't believe him, so McHarris was forced to strip naked in front of a judge and the police. He served 30 days on a jail farm and continued living as a man upon release.
Marsha P. Johnson
Johnson was a prominent figure within the gay liberation movement and was part of the Stonewall uprising of 1969. She co-founded the Street Transvestite Action Revolutionaries with Sylvia Rivera. They engaged in sex work in order to secure hotel rooms where they fed and housed queer youth. She was later involved with ACT-UP, a coalition working to impact the lives of people living with AIDS. Her body was found in the Hudson River in 1992 and many believed she may have been murdered by the mafia. Her death was never solved, despite multiple attempts to reopen the case.
Carlett A. Brown
Brown was serving in the Navy when she began being treated for a few medical conditions. There was concern she was mentally ill because she admitted she wanted to be a woman. While undergoing a physical exam, it was discovered Brown was actually intersex. She refused to have the doctor-recommended surgery to become "more typically male," according to Autostraddle, and decided she wanted to have gender confirmation surgery instead. (It was referred to as "sex reassignment surgery" at the time.) After having the surgery, she planned to marry her boyfriend, Sgt. Eugene Martin.
Brown made arrangements to go to Europe and have her surgery, but first made a stop in New York for a "feminizing face lift," according to TransGriot. The government slapped her with fines for back taxes and wouldn't let her leave the country until her debt was paid in full. She took on a job as a cook to repay the money, but what happened to her after that remains a mystery. If Brown had made it to Europe for surgery, she would have been the first African-American to have "sex reassignment surgery."
Sir Lady Java
Sir Lady Java was born in New Orleans. She transitioned at an early age with her mother's support. She made a living in the nightclub scene and eventually moved to Los Angeles, where she become a hit in a club frequented by Redd Foxx, Sammy Davis Jr., Richard Pryor, Don Rickles and other great comedy legends of that time.
The Los Angeles Police Department started shutting down her shows for violating an ordinance that prohibited a person from dressing as someone of the "opposite sex." They threatened to also fine any venue that hosted her. She protested and involved the ACLU, but the case was thrown out on the grounds that only club owners could sue. She went on to become an actress and prominent transgender activist.
The Lady Chablis
The Lady Chablis was an actress and author who was originally born in Florida. She dropped out of high school and decided as a teenager to go by the name Chablis. Her mother saw the name on a wine bottle and wanted it for her unborn daughter, whom she later miscarried. After asking for her mother's blessing, Chablis legally adopted the name.
Chablis became a hit in the club scene and was the first drag performer to be accepted by a larger audience. She was best known for her appearance in the bestselling book and film adaptation of Midnight in The Garden of Good and Evil. She made other film and television appearances, including documentaries about her life, made-for-TV films and even The Real Housewives of Atlanta. Chablis died of pneumonia at the age of 59.
Miss Major Griffin-Gracy
Miss Major is a trans activist who began much of her work during the Stonewall uprising of 1969. As a teen in the late 1950s, she came out and faced abuse and ridicule from her peers. Major ended up homeless and relied on sex work, theft and other illegal activities as a means of survival for more than 20 years.
She realized the prison industrial complex disproportionately targeted trans people of color who were poor and lacked access to education, employment and economic stability. She became the executive director for the Transgender, Gender Variant and Intersex Justice Project, which advocates for incarcerated trans women. She coordinated one of the earliest needle exchange programs in the San Francisco Bay Area and also served the community through various HIV/AIDS organizations. The documentary Major chronicles her life, including her children, romantic partners and her status as one of the most celebrated black trans figures of our time.