Obamacare premiums could see double-digit increases thanks to Trump's changes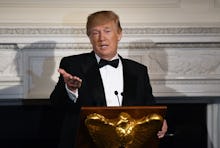 Changes that President Donald Trump and Republicans have made to the Affordable Care Act will lead millions to go without health insurance and cause premiums to skyrocket across the country, with the average plan increasing by double-digits in most states, according to an Urban Institute analysis.
According to the study released on Monday, Republicans' decision to end the individual mandate, along with Trump's decision to end cost-sharing reduction subsidy payments to insurance companies will cause an additional 6.4 million people to go uninsured in 2019.
Trump's proposal to allow insurance companies to sell short-term "junk insurance" plans that don't offer the basic coverage areas the ACA deems essential would cause an additional 2.5 million people to drop their insurance coverage, the study projects.
Ultimately, the elimination of the individual mandate and the possibility that insurance companies could sell these short-term so-called junk plans would lead insurance premiums to rise an average of 18.2% in the 43 states that allow the short-term plans to be sold, the study found.
The study says the increases will result from healthy people dropping their insurance, leaving the pool of insured Americans full of sicker people, who are more costly to cover. Without healthy people in the pool to offset the cost, premiums for those who remain in the marketplace increase.
A handful of states that don't allow short-term plans to be sold — including New York, New Jersey, Oregon, Vermont and Washington — would not see premiums rise as much, the study says.
Altogether, the changes Trump and the GOP made to the ACA — better known as Obamacare — contradict the president's promise to provide better and more affordable health insurance to Americans.
Democrats are already gearing up to run against the changes Trump and the GOP's made to the ACA.
Save My Care, a group that wants to protect the ACA, is already pushing television ads in states across the country to pressure lawmakers in seven states — Alaska, Maine, Arizona, Colorado, Nevada, Ohio and West Virginia — to "stop the partisan war on health care."
"Americans are fed up with the anxiety and premium increases that are the result of repeated partisan efforts to repeal and sabotage their health care," Save My Care campaign chairman Leslie Dac said in a statement. "It's time Congress recognizes that enough is enough and stands up against the partisan war on our care."