Republicans are beginning to break with the NRA. Is their power on guns slipping?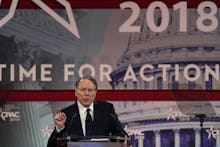 Welcome to Mic's daily read on Donald Trump's America. Want to receive this as a daily email in your inbox? Subscribe here.
Monday's dispatch: Is the NRA's influence diminishing?
Chinks in the armor of the National Rifle Association are beginning to show.
From Tallahassee to Washington, Republicans have at least signaled a willingness to oppose the NRA on topics like raising the age to buy a gun to 21. And as Mic reviewed on Friday, GOP legislators in several states rejected or backed off NRA-supported bills to expand access to guns in the wake of the Parkland, Florida, high school shooting on Feb. 14 that killed 17 people.
In Florida, the governor and top state legislators have announced a proposal that would rein in the rights of state residents to own and use firearms. It would restrict access to guns for those who are under 21 or have mental health issues. Nikolas Cruz, the alleged shooter at Marjory Stoneman Douglas High School, was 19 years old. The proposed legislation would also ban bump stocks and allow law enforcement to remove guns from individuals deemed a danger to themselves or others.
Washington was quiet last week with Congress out of session. Republican leaders stayed mum on gun legislation, while President Donald Trump said he would consider strengthening background checks, restricting gun access to people with mental illnesses and raising the age to purchase a gun from 18 to 21. With the House and Senate back in session Monday, Republicans will have to answer questions about what gun bill, if any, they will pursue in the coming days.
Meanwhile, some top members of the GOP are already signaling an openness to buck the NRA on certain issues. In a CNN town hall a week after the shooting, Sen. Marco Rubio (R-Fla.) said he would support raising the age to buy a gun legally and would consider a ban on high-capacity gun magazines. Sen. Pat Roberts (R-Kan.) said he is open to raising the legal age to buy a gun. And Sen. Pat Toomey (R-Pa.) said that while he does not favor raising the age limit for buying guns, he's introduced legislation to require background checks for firearms purchases at gun shows — a loophole that affects millions of gun sales annually.
"I disagree with [the NRA]," Toomey said Sunday on Meet the Press.
Marion Hammer, the top NRA lobbyist in Florida, called the Florida proposal "gratuitous gun control." A longtime political player in Florida, the NRA has staved off any major gun control proposal for decades. As the New Yorker wrote of Hammer in a recent profile, she wrote legislation in the 1980s that let any Floridian with a permit who "completes a rudimentary training course" carry a concealed firearm. That legislation, or versions of it, has spread to all 50 states. Since then, the NRA has pushed Florida lawmakers to make their states one of America's most gun-friendly.
The national NRA has called for so-called "good guy with a gun" solutions to the school shooting problem, while opposing efforts to raise the age to legally buy a gun, and some proposals to strip access to guns from people with a mental illness. NRA executive vice president Wayne LaPierre, in a speech Thursday at the Conservative Political Action Conference, said liberal politicians have exploited the Florida shooting, and that restrictions on gun access is not the answer.
But the NRA is major facing backlash to its defense of widespread access to guns. Top airlines, like Delta, and rental car companies, like Hertz, have announced they will no longer give discounts to NRA members. An array of other companies have followed suit.
Any sense that the NRA may be defeated in Washington or Tallahassee, however, must be couched in the historical context of the organization's power. After the December 2012 shooting at Sandy Hook Elementary School in Newtown, Connecticut, Toomey and Sen. Joe Manchin (D-W.Va.) pushed bipartisan legislation to strengthen the U.S. gun background check system. That bill failed to advance. And while the NRA has said it supports a ban on bump stocks, a modification used by a mass shooter in Las Vegas to mimic automatic fire of his AR-15, a bill to ban them has languished in Congress since the October 2017 shooting.
Republicans hold the majority in Congress, and Trump was elected as he staunchly supported of the NRA. If the GOP in either chamber, let alone Trump, truly pursue a vote that bucks the NRA, it would be a historic break from decades of control over gun policy by the 5-million-member gun rights organization.
Today's question: Is the NRA's ability to prevent gun control slipping?
Please email us at trumpsamerica@mic.com with your thoughts.
Monday in Trump's America:
More gun news: Congressional leaders have no plan on how to address mass shootings, or at least one that has been released publicly. The Associated Press lays out what to expect this week.
Moderate House Republicans want House Speaker Paul Ryan (R-Wis.) to hold a vote this week on a bill that would require federal agencies to report criminal information to the national gun background check system. And governors of both parties called on Congress to pass legislation aimed at preventing mass shootings.
New polls: Trump's approval ratings have dropped, according to two new polls. A new CNN poll gives Trump a 35% approval rating, tied for the lowest point in his presidency. A new USA Today survey gives the president a 38% approval, tying with the record-low rating he had when inaugurated. That poll also showed that the vast majority of Americans want Congress to take action on guns, but don't expect anything to happen soon.
Slashing regulations: At least a dozen safety regulations created under the Obama administration have been delayed, withdrawn or repealed under Trump.
EPA: There has been a surge in public records requests to the Environmental Protection Agency, as EPA administrator Scott Pruitt refuses to divulge details about his travel and expenses.
Shorterm DACA fix? Sen. Jeff Flake (R-Ariz.) is exploring a proposal with Sen. Heidi Heitkamp (D-N.D.) to extend legal protection of DACA recipients for three years, in exchange for $7.6 billion in border security funds. This comes after the Senate failed two weeks ago to reach 60 votes on four immigration proposals that would have protected DACA recipients.
Trump pushing for personal pilot at FAA: The president has reportedly pushed for his longtime pilot on his personal aircraft to be considered to lead the Federal Aviation Administration.
Health insurance premiums: The cost of health insurance policies to consumers is likely to be driven higher because of policies pushed by the Trump administration, a new report shows.
Democratic memo: The White House allowed the release of a Democratic intelligence memo on Saturday that refuted claims made by an earlier released Republican memo. The memo argued intelligence agencies have managed a fair investigation into claims made against Trump and Hillary Clinton.
Feinstein race: Sen. Dianne Feinstein (D-Calif.) did not win an endorsement over the weekend of her re-election bid to the Senate from California Democrats. State Senate President Pro Tempore Kevin de León, a Democrat, is challenging Feinstein in the state's primary election on June 5.
Texas Senate: Rep. Beto O'Rourke (D-Texas) continues to outraise Texas Sen. Ted Cruz (R-Texas) in his bid to unseat Cruz in 2018. O'Rourke raised $1.5 million more than Cruz in the first weeks of 2018.
North Korea: South Korean President Moon Jae-in said Sunday, ahead of the closing ceremony of the Winter Olympics, that the North Koreans are "very willing" to begin talks with the United States.
Today's MicBite:
Mic's Jack Smith IV delves into the dark world of the alt-right's "art" movement, called #Fashwave.
Correction: Feb. 26, 2018