The 20 best looks from London and Milan Fashion Weeks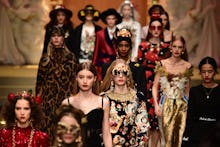 Greetings from fashion month, the multi-week, multi-continent celebration of fashion spreading from New York City to Europe. At this point, the models have walked in New York, London and things are wrapping up in Milan, with Milan Fashion Week officially ending on Monday.
So we thought now would be a good time to gush about the best looks that came down the runways at both the Milan and London shows, before the Paris shows begin and slay our entire lives.
Included during these two fabulous weeks are Burberry, Gucci, Prada and Dolce & Gabbana. Feast your eyes, please:
Let's start with the best looks at London Fashion Week...
This rainbow coat at Burberry
This pink dream at Erdem
This mega-power suit at Gareth Pugh
This lovely ombre satin look at J.W. Anderson
This frilly dream at Roksanda
This Oscar-ready gown at Roksanda
This sex-positive look at Christopher Kane
Now onto Milan...
We'd kill for this dress with its subtle cat pattern at Marni
Ditto for this spin on Clueless at Versace
This extremely '80s but also extremely good Versace look was perfection
And now what about this gold number at Fendi?
Let's hear it for lime green dress from the future at Prada
And for this wicked spin on Jackie Kennedy and pop art at Moschino
This other look at Moschino is to die for too.
Now there was a lot of look at Gucci, but we're huge fans of this dress...
... and this outfit, dragon included.
Finally, despite Dolce & Gabbana being very problematic, we have to give it up for every single one of these ensembles...
A show overflowing with power suits for women is one after our own heart.