'Top Chef' judge Gail Simmons on what the #MeToo movement means for restaurants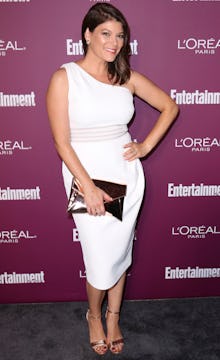 Gail Simmons is a culinary powerhouse. She's judged 15 seasons of Top Chef and directs special projects at Food & Wine magazine. On Sunday evening, she hosted the International Association of Culinary Professionals awards in New York City, where her first cookbook, Bringing It Home: Favorite Recipes from a Life of Adventurous Eating, was nominated for an award. During the event, she sat down to chat with Mic about filming Top Chef and why the #MeToo movement in food is long overdue.
Mic: The current season of Top Chef is wrapping up. There have been 15 seasons, most shot in different cities — what is filming the show like?
GS: It's pretty great, actually. It used to be a whole lot more exhausting, but 15 seasons in we've got it down to a science. We have a bigger crew and a bigger production, which allows us to be more efficient with our time.
What's your favorite part of the show?
GS: We're not shooting this in a studio, like 90% of cooking shows. We build a new kitchen from scratch in a different city, state, or part of the world every single season. I think that's a major reason the show has stayed on the air for so long and kept its relevancy.
The location really informs the narrative of the show, what we cook and who our guests are. We get to settle into a new city for six or eight weeks, eat our way through, travel and explore. It's exhilarating. It's definitely the best part of being on the show.
Are you constantly eating and tasting on the show? How do you balance that?
GS: I'm pretty conscious of eating a healthy, simple breakfast every morning, since I'll be eating who-knows-what rich food throughout the day. Pacing yourself is key, and making really smart choices when you're off camera.
Since we get to settle down in a city, we make sure we have fridges in our rooms and do a little grocery shopping, so I have healthy things to snack on. It makes it feel a little more like home. And I don't have to order room service at 1 a.m.
You've been to so many cities around the country and the world. Have you fallen in love with any places that you didn't expect to love?
GS: I'm from Canada, and it's really because of Top Chef that I've been able to explore so much of this country. When I moved to New York 20 years ago, I had only been to four or five states. We get to shoot in some remote, breathtaking places: Hawaii; Telluride in Colorado.
We shot my favorite season in New Orleans in 2013. It was the summer, and 110 degrees every day, but I was just taken by the city. The people were so welcoming, and the food was exceptional. I didn't want to leave. We were all looking at real estate; none of us wanted to go home.
We did a finale in San Miguel de Allende, a part of Mexico I had never been to. It's a beautiful colonial town and artist colony up in the mountains. The Mezcal is great; there are many amazing furniture makers there. We went horseback riding.
After visiting all these gorgeous places, are you still excited by the food scene in Brooklyn, your hometown?
GS: So many restaurants that are making a statement are opening Brooklyn. Chefs that are innovating on the cutting edge but can't afford Manhattan come here. At any given time, I have 15 places on my list that I want to try. Last night I ate at a new restaurant near me called Popina. It's a mix of southern American and traditional Italian food, which sounded kind of strange but they do it so beautifully. Their hot chicken Milanese was the most delicious thing I ever had.
I live near Pok Pok, one of the best Thai restaurants in New York. I love a neighborhood spot called Long Island Restaurant — it's an old art deco diner — and a little Spanish restaurant a few blocks from me, La Vara. French Louie is a lovely spot. There's a pub with great food called Henry Public. And there's a new Thai place that's wonderful, Ugly Baby.
Speaking of restaurants, the #MeToo movement has hit the restaurant and food industry hard.
GS: The #MeToo movement is amazing. It's long overdue. I'm so glad women are speaking up. We're realizing that these tragic, terrible experiences have been so common for so long. It's appalling, atrocious and unacceptable. We think we're so progressive, but what has changed in 60 years?
Do you think it's different, or worse, in the food industry?
GS: Although the community is tight, the restaurant industry is made up of hundreds of small business. For so long, restaurants have run and functioned outside the realm of standards that many modern companies have, where there are policies in place for gender and diversity issues.
Restaurants are mostly mom and pop shops — more pop than mom. That doesn't mean this behavior is acceptable. Now that we have the very recent creation of restaurant empires, groups and companies, they can be run much more efficiently. They can institute HR departments and policies. There can be a place to make sure people are getting equal opportunities and equal pay. This is new and it's going to take time.
In the meantime, there's a lot of work to do. Men feel like they can act like animals. We've all let them get away with it. Well, not everyone — there a lot of good people in this world. There's no reason people shouldn't feel safe to do the work they want to do.
In my own experience working in restaurants, I feel like there is plenty of an old-school, macho culture that is changing, but not fast enough.
GS: Restaurant kitchens are modeled after the military. They're called brigades, and the organization and the mentality are based on hierarchical structure. The military hasn't done a great job, either. It's getting there. We're making change, but it's going to take time. It's not going to be reformed over night.
There's still macho-ism. Kitchens are places of manual labor, for the most part. They require fire, knives, long hours and late nights. There's intense physical and emotional pressure. That has somehow allowed for very bad behavior.
"That we don't hold people to the same standards as in other industries is ridiculous and needs to change" - Gail Simmons
Suddenly, chefs are famous and sexy and glamorized. In some ways, this quick shot to stardom has only made it worse. There's a perception of a glamorous industry — that you're an exception to a rule — and like in Hollywood, that has changed and damaged lives. That we don't hold people to the same standards as in other industries is ridiculous and needs to change.
Thankfully, women are coming together and feeling safe to express themselves. But it needs to be the leaders of the industry who speak up and lead by example — even more so, the male leaders. Male leaders need to stand by women's sides and set an example. Only then will it will trickle down to the next generation of cooks.
The other piece of the puzzle is the consumer. Female and male servers have been assaulted by customers, as well as by figures of authority.
So what's next for you?
GS: I'm having a baby in three months! I have daughter, and I'm excited to have a fourth member of our family and to take some time off to enjoy that baby.
Top Chef Jr. is coming back, and we'll start shooting another season of Top Chef this spring. I have my own production company that I founded three years ago; we have a bunch of projects in development that will come to light this year. There are less and less great food shows out there — we're trying to create food shows that are smart, relevant and fun.