Supreme Court declines to hear Trump administration's appeal on DACA, killing March 5 deadline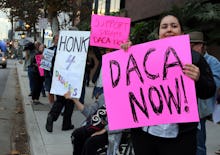 President Donald Trump cannot end the Deferred Action for Childhood Arrivals program next week, the arbitrary deadline he set to sunset the program, after the Supreme Court on Monday declined to grant the Trump administration's request to end DACA on March 5.
Two lower federal courts — one in San Francisco and another in Brooklyn, New York — had already ruled that the March 5 end date was arbitrary. Instead of appealing that decision to a federal appeals court, the Department of Justice appealed it directly to the Supreme Court.
However, the Supreme Court — which rarely hears appeals that have skipped over a lower appeals court — declined to hear the case. This is a blow to Trump, who now cannot end the program on the date he had originally set.
The decision buys some time for the roughly 800,000 DACA recipients — undocumented immigrants brought to the U.S. as minors who meet certain criteria. It also buys time for Congress, whose effort to pass a bill codifying DACA into law failed after Trump demanded cuts to legal immigration that even Republican senators disagreed with.