In blow to Trump, court rules LGBT workers are covered under the Civil Rights Act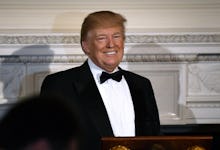 A federal appeals court in Manhattan on Monday ruled that Title VII of the Civil Rights Act "prohibits discrimination on the basis of sexual orientation" — a major win for LGBT rights advocates and a loss for President Donald Trump, whose administration argued that LGBT employees are not protected under that law.
"Sexual orientation discrimination — which is motivated by an employer's opposition to romantic association between particular sexes — is discrimination based on the employee's own sex," the 2nd Circuit Court of Appeals wrote in an opinion.
Currently, no federal laws exist that explicitly protect LGBT employees from workplace discrimination. However, the Civil Rights Act of 1964 "prohibits employment discrimination based on race, color, religion, sex and national origin."
Former President Barack Obama's administration interpreted "sex" to include sexual orientation and gender identity. That led the Equal Employment Opportunity Commission — a federal agency that deals with workplace Civil Rights claims — to argue that employers of Donald Zarda, a skydiving instructor who claimed that in 2010 he was fired from his job because he was gay, violated the Civil Rights Act when they terminated his employment.
However, after Trump took office, the Department of Justice took the opposite position.
"The essential element of sex discrimination under Title VII is that employees of one sex must be treated worse than similarly situated employees of the other sex, and sexual orientation discrimination simply does not have that effect," the Department of Justice wrote in a brief in the case, according to BuzzFeed News.
The 2nd Circuit's decision makes it more likely that the case will head to the Supreme Court. That's because an appeals court in Atlanta ruled against a lesbian who said she was fired for being gay back in March 2017. The Supreme Court declined to hear an appeal of that case.
Now that there's a circuit split, the Supreme Court could be forced to hear arguments.