Nordstrom becomes the first major retailer to order Chromat's swimsuits up to a size 3X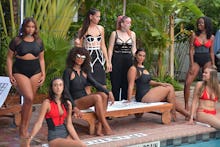 Thanks to a groundbreaking new order from Nordstrom, you will soon finally be able to buy Chromat's modern, sexy and signature strappy swimwear up to a size 3X. At a panel at the Fashion Institute of Technology on Friday, Chromat's designer Becca McCharen-Tran revealed that Nordstrom had recently placed a huge order for its swimsuits in the size range XS to 3X.
"No one has ever bought above a size large for us," McCharen-Tran told the crowd. "Barneys has never bought above a size large, so we were producing extra sizes on our own."
In an email to Mic, McCharen-Tran elaborated on how this feels to the brand, with its longtime message of the importance of size inclusivity on the runway and in fashion as a whole.
"We launched our first curve models on the runway almost five years ago, but we were so surprised when we took the curve samples to market – they got no response!" McCharen-Tran wrote. "None of our retailer partners or wholesale stockists were interested in buying over a size large for their stores."
And because of that, the brand couldn't fully extend its passion for size inclusivity into its actual garments for sale. This past season, models of all different sizes and shapes and ages walked, but the company has long struggled with producing its garments above a size XL for the mass market.
"We are a small company without outside investment," McCharen-Tran explained. "Producing our collections would not be possible without wholesale support — that means what our retailers order is what goes into production. Over the years, we have experimented with creating custom curve sizing on demand, and we have expanded our size range to XL just for our own web shop, but producing our full collection in additional sizing requires larger wholesale support to finance."
So that's why this Nordstrom order has felt so monumental to McCharen-Tran and her team. Because of the store's order, they can finally produce their swimwear up to a size 3X.
"The upcoming Nordstrom order is the first time a retailer has been so supportive of our curve inclusive mission," McCharen-Tran said. "They ordered a range of swimwear in XS-3X and we could not be more thrilled to finally have Chromat up to 3X available worldwide on such a major platform! With their support we hope to continue to expand our offerings and sizing."
There is definitely additional pressure on her team, however, since this is the first time they've produced swimwear up to this size for this huge market.
"This will be the first time we are producing up to 3X, so I am equally nervous as I am excited about its launch next month (March-April)," McCharen-Tran wrote. "We have partnered with a great factory who is experienced in producing curve sizing for other swim global brands, and we have worked hard to engineer the grading based on the curve fit tests we've been doing over the last five years. I am looking forward to receiving important feedback on the fit and feel of our new sizing so we can continue to improve for our next season!"
What McCharen-Tran sees beyond this order is possibility. If the line does well, and the suits sell, then that sends a signal, not only to Nordstrom that apparel like this has demand, but to the industry at large.
"I hope that our new sizing gets a great response at Nordstrom — strong sales means they will place an order with us again next season," McCharen-Tran said. "So if anything, please encourage everyone to show their support! It can only help to bring in more size-inclusive brands to the market in the future!"