GOP candidate running to replace "Handmaid's Tale" congressman caught sexting a staffer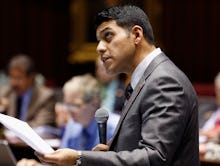 Arizona Republican Rep. Trent Franks resigned from Congress in December when reports surfaced that he had repeatedly asked female staffers to bear his child. Now one of the leading Republican candidates to replace Franks in a special election Tuesday has been caught up in his own scandal, also involving inappropriate requests and a female staffer.
On Wednesday, former Arizona state Sen. Steve Montenegro was publicly revealed to be engaging in an ongoing sexting affair with a female employee. According to the Arizona Republic, Montenegro — a staunch conservative and married minister — had been exchanging flirtatious text and Snapchat messages with Stephanie Holford, his campaign's digital media coordinator. The messages reportedly included topless photos and conversations that were sexual in nature.
"I felt comfortable enough with the relationship that I began to send pictures of myself in various states of undress," Holford said in a statement read by her attorney. "Sen. Montenegro asked me to send them on Snapchat instead. We engaged in sexual conversation about these pictures. These conversations were detailed and intimate."
Holford said it was her ex-boyfriend who exposed the cyber-affair between herself and Montenegro by removing images and text messages from her computer without her consent. As a result, she may be a victim of "revenge porn" and entitled to legal recourse through an Arizona law passed two years ago, according to the Arizona Republic.
Montenegro is considered to be a strong contender for the Republican nomination in Tuesday's primary. He has received endorsements from prominent conservatives such as former Arizona sheriff Joe Arpaio and Texas Sen. Ted Cruz.
Montenegro announced his candidacy for Congress shortly after Franks resigned in December amid an onslaught of news stories alleging he had inappropriately pressured two female staffers to act as a surrogate for him and his wife.
Franks reportedly offered one staffer $5 million to be his surrogate and left the impression with multiple staffers that he may have wanted to impregnate them through intercourse. He was considered a staunch ally of pro-life hardliners who oppose in vitro fertilization.
The incident led to multiple comparisons between Franks and the villains of the dystopian TV series The Handmaid's Tale, where fertile women are forced to become sex slaves for a ruling class of conservative Christian families.
Two Democratic candidates are also vying for the chance to replace Franks. Though the district is considered safe Republican territory — Trump won the district in 2016 by 21 percentage points — a Montenegro candidacy could give the Democratic nominee a chance at winning the special general election April 24.