Avoid flight delays on your spring travels by checking these 3 key details before you book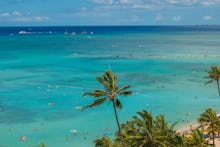 An upcoming vacation doesn't feel real until you've made the all-important step of actually booking your flight. Most people take the time to research the best possible flight deal — but don't check the likelihood of said flight actually leaving on time.
In 2017, close to 20% of flights were delayed in either take-off or landing, which probably made 100% of those passengers very frustrated.
While there's not much travelers can do to prevent delays once they happen, a bit of smart research could save you some trouble. A recent report from RewardExpert, a financial insights company, analyzed the past five years of air travel performance from the U.S. Department of Transportation to explore what dates, airlines and other factors can lead to the best (or worst) travel experiences this spring. If you've got spring break on your mind, you might want to study up.
The 10 best days to travel during spring 2018
If you have the flexibility to be more selective with your travel dates, look into the below 10 days. According to RewardExpert, these dates between March 1 and May 31 are least likely to have had delays and crowds over the past five years. While you may be able to snag some cheaper flights in March, RewardExpert has dubbed it "the most treacherous month for spring travel." If you can't help but fly in March, data suggests avoiding March 1, 12 and 13, which are historically bad days to travel.
• Wednesday, April 11
• Saturday, April 14
• Sunday, April 15
• Monday, April 16
• Wednesday, April 18
• Sunday, April 22
• Wednesday, May 2
• Monday, May 14
• Sunday, May 27
• Monday, May 28
The airlines with the best track record for timeliness
Even if you book a flight on one of the projected best dates, if you do it with an airline known for subpar service, you're increasing your risk for a bad travel experience. If you're the type who likes to be on time, the following are your best bet.
• Hawaiian Airlines has the best performance, with an average of 93.62% of on-time arrivals and departures, according to RewardExpert.
• Alaska Airlines and Delta Airlines are next in line, with 89.53% and 86.18% respectively.
These airlines are notoriously late
Sometimes you're willing to overlook your bad experiences with an airline — especially when the price is right. But three airlines on RewardExpert's list got knocked for their recurring delays, so you may consider avoiding them if your schedule doesn't allow for wiggle room. JetBlue scored the lowest for airline on-time performance, with 77.6% of its departures and arrivals following schedule. Frontier, achieving punctuality 78.12% of the time and Southwest, at 78.32%, earned second and third place, respectively, for least-prompt take-offs and arrivals.