White House walks back Trump's support of raising age to purchase guns after NRA meeting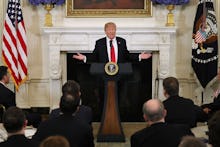 The White House on Monday walked back President Donald Trump's support for raising the age to purchase a rifle from 18 to 21, now saying the idea is "still being discussed" and "a final determination and legislative piece has not been determined on that front."
The walk-back comes after Trump lunched over the weekend with National Rifle Association CEO Wayne LaPierre and NRA lobbyist Chris Cox.
However, White House press secretary Sarah Sanders bristled at the notion that Trump's lunch with NRA leaders changed his position.
"To try to pretend like he's being influenced by any one group would be ridiculous," Sanders said at Monday's White House press briefing.
In the wake of the Feb. 14 mass shooting at Marjory Stoneman Douglas High School in Parkland, Florida, Trump has expressed support for gun reforms such as banning bump stocks, strengthening background checks and increasing the minimum age to purchase a rifle such as the one used by the shooter in the Parkland shooting.
Trump, however, has also been vocal about his support for arming teachers in classrooms — a proposal that could serve as a poison pill to any gun legislation Congress attempts to pass.
Sanders said Monday that Trump is planning to meet with a bipartisan group of lawmakers on Wednesday to discuss gun reforms. Yet if the immigration debate is any indication, what he says at the meeting won't necessarily be Trump's final position on the issue.
At a bipartisan meeting with lawmakers in January, Trump said he was willing to "take the heat" for Congress to pass a legislative fix for the Deferred Action for Childhood Arrivals program. However, Trump ultimately demanded cuts to legal immigration that lost the support of GOP senators, causing DACA legislation to fail.