Many fear the Supreme Court will devastate unions, but unions are not as negative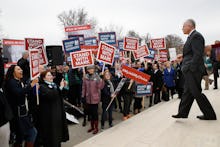 Welcome to Mic's daily read on Donald Trump's America. Want to receive this as a daily email in your inbox? Subscribe here.
Tuesday's dispatch: How Janus v. AFSCME may affect elections
On Monday, nothing that came out of the Supreme Court regarding unions was much of a surprise. The court's conservative-leaning justices signaled their disdain for collective bargaining and the political activity of unions, while the liberal justices suggested the current system, where nonunion members are required in 22 states to pay a fee for the union's services, is perfectly legal.
The decision in Janus v. AFSCME is likely to come in June. The case pits Mark Janus, an employee of the Illinois Department of Health Care and Family Services, against the American Federation of State, County and Municipal Employees, or AFSCME. That union represents employees in Janus' workplace. Janus, who is not a member of the union, is still required in Illinois to pay a nonmember "agency fee" to the union. Janus contends that violates his rights under the First Amendment.
Unions are preparing for a Supreme Court decision that means they lose those "agency fee" payments from nonmembers in the remaining states that do not have "right to work" laws. Laws in "right to work" states already allow employees to opt into union payments, instead of requiring they pay them. There's concern from those who rely on union support that the political spending of labor unions will drop precipitously after the decision. Politico estimated spending at the four largest public sector unions could drop two-thirds below its 2016 level, $166 million to $55 million. Nearly all of that money was spent in support of Democrats.
Public-sector unions, and those who follow them closely, believe it is highly premature to suggest their revenue will drop that much in the wake of an anti-union decision in the Janus case. But they are clear that the decision could accelerate the already declining rate of union membership in America, ultimately impacting the spending and organization labor brings to every election.
"That's why the right wing wants to defund the labor movement," Randi Weingarten, president of the 1.7 million-member American Federation of Teachers, said in an interview. "If you're constantly worried about stabilizing instead of doing that work, of course you're going to have less power."
The Janus lawsuit and those targeting the ability of unions to organize have been quietly funded for decades by leading conservative donors, including Charles and David Koch who are also known as the Koch brothers. These donors, who share ties with some of the largest corporate interests in America, have an interest in weakening the membership of unions and their ability to collectively bargain, Weingarten said.
How a Janus ruling against unions will ultimately impact that membership is hotly debated. In 28 states, laws already prevent unions from collecting dues from nonunion members. The Janus decision would stop those dues flowing to unions in the remaining 22 states. That will be an immediate financial hit, but it won't hobble unions on its own. The Service Employees International Union, the largest union spender in the 2016 election, has about 2 million due-payers, of which only 6% are nonmembers.
But a negative ruling for unions opens them up to the "free rider" problem. That ruling could allow unionized employees to receive union benefits without paying for them — which could trigger a wave of workers who stop paying in while reaping the benefits of collective bargaining, said Phil Dine, a veteran labor journalist and author of the book State of the Unions.
"While business outspends labor often, it can't beat its boots on the grounds," Dine said of the ruling's potential impact on politics.
In the final three weeks before the 2016 election, the AFL-CIO alone knocked on an estimated 1 million doors. Nationwide, 18% of the electorate was from a union household, a group that voted for Hillary Clinton by 9 points.
Losing dues revenue from nonmembers and "free riders" would be devastating to unions, experts agree, but they added that it's too early to predict how much Janus would impact membership. Weingarten said national unions have been knocking on doors and holding meetings with members for years to drum up support in anticipation of a negative Janus ruling. The states that do not already have "right to work" laws have longer legacies of union representation, making it difficult to compare the loyalty of union members in Northeastern states, for example, to those in the Deep South.
"It seems to me to be very premature to predict what the concrete political consequences of something like this will be," Daniel Weiner, senior counsel at the Brennan Center for Justice Democracy Program whose work focuses on money in politics, said in an interview. "If unions don't meet the goal, other organizations do. The unions knew this was coming for years. They'll plan accordingly."
Today's question: Are you a member of a union? If not, do you support or oppose them?
Please email us at trumpsamerica@mic.com with your thoughts.
Tuesday in Trump's America:
DACA deadline: The Supreme Court declined to hear an appeal requested by the Trump administration over a federal court ruling that killed the March 5 deadline for expiration of the Deferred Action for Childhood Arrivals program. This means that court battles will play out, likely for months, as DACA recipients continue to renew their status in the United States. That may be good news for DACA recipients fearing deportation, but it removes a deadline that could have motivated Congress to preserve the program.
Guns: Democrats in the Senate are not pleased with a modest Republican proposal to strengthen the existing gun background check system. And conservatives want little or no change. Per usual, little is expected to change in Washington on the matter.
The House, which has passed a version of the background check bill that senators are considering, has indicated it will not act until the Senate does.
West Virginia teachers went on strike to protest low wages as Trump pushes a proposal to arm teachers that would cost $1 billion. And after Trump met with the National Rifle Association, the White House said he no longer supports raising the minimum age to buy a gun to 21 years old.
Also Monday, Trump said that even if he didn't have a gun, he would have run into the Parkland, Florida, high school during the shooting on Feb. 14 that killed 17 people.
LGBT: A federal court ruled LGBT workers are protected from discrimination by the Civil Rights Act, a blow to the Trump administration, which had argued they were not protected by the law.
Climate change: Scientists are stunned that the North Pole is above freezing, as warm air settles over the top of the globe and seasonably cold air surges through Europe. Scientists believe this could become more common as a result of climate change.
State departure: The top State Department official dealing with North Korea is retiring.
Facebook debate: In response to a Wired article about the power of Facebook in Trump's 2016 election victory, Brad Parscale, who ran Trump's digital ad operation during the campaign, said Facebook charged Trump a fraction of what they charged Hillary Clinton to run ads.
Generic ballot: Nearly twice as many Democrats as Republicans are enthusiastic about voting in the 2018 midterm elections. Those numbers had narrowed in recent weeks but widened again in a new CNN poll.
Today's MicBite:
After the tragic events in Parkland, Florida, this gun owner is turning over his AR-15. Chris Shields, an 18-year member of the military and owner of 10 guns, explains why no one needs this weapon — and is calling on fellow gun owners to give theirs up, too.