The 'A Wrinkle in Time' premiere red carpet killed us and then brought us back to life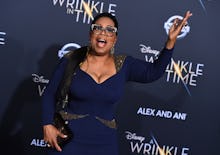 Happy Tuesday, readers. How are you? You feeling good? Well get ready, because no matter how you're feeling right now, we can guarantee that after seeing these pictures from this red carpet, you'll be feeling approximately 200% better.
On Monday night in Los Angeles, A Wrinkle in Time held its world premiere. For a film so jam-packed with everyone's favorite celebrities — Oprah Winfrey, Reese Witherspoon, Mindy Kaling and Chris Pine, to name a few — we expected the red carpet to be great. But what ended up going down last night was not only outstanding, but Black Panther red carpet-level great.
That's pretty much the best compliment we can dole out. We don't want to overwhelm you with beauty, so let's take things look by look.
Oprah Winfrey in Versace
Storm Reid in Coach
Tessa Thompson in Miu Miu
Gugu Mbatha-Raw in Vionnet
Winston Duke
Ryan Coogler and Zinzi Evans
Yara Shahidi in Chanel
Rowan Blanchard in Elie Saab
Jurnee Smollett-Bell in Missoni
Salma Hayek
Laura Dern