Want to work from home or remotely? The best jobs to be your own boss — and the top places to do it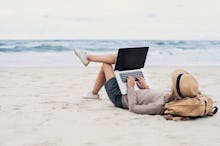 When it comes to finding the right job — or career — more money isn't always the answer. After all, the relationship between wealth and happiness can be a complicated one: If you're born to be outdoors, a high-paying desk job might be a mixed blessing. And if it's freedom you crave, taking a pay cut so that you can be your own boss is going to be appealing.
More and more workers are becoming self-employed. According to projections from Intuit — which makes small-business software like QuickBooks — roughly 43% of the workforce will be self-employed contractors by the year 2020.
If you want to be your own boss, the U.S. isn't a terrible place to be, according to a recent report from ExpertMarket, a U.K-based company that helps small businesses find vendors.
The U.S. was edged out only by Hong Kong in ExpertMarket's ranking, which used eight different criteria, ranging from the local tax rates and transit accessibility to how easy it is for small businesses to access credit. Hong Kong hits the sweet spot among all of the different categories.
That said, if cost of living is a concern, you might consider heading to Eastern Europe, which is home to three of the top 10 countries, but which are comparably a lot cheaper than a place like Hong Kong. You can see the highest-performing countries below, or check out the list and its methodology here.
Best countries for being your own boss
10. Czech Republic
9. Bulgaria
8. Estonia
7. New Zealand
6. Spain
5. United Kingdom
4. United Arab Emirates
3. South Korea
2. United States
1. Hong Kong
Of course, it's not always practical to pack up and fly to the other side of the world. And as the above ranking shows, the U.S is still a relatively good place to be if you're trying to be self-employed, particularly if you decamp to one of the country's many cities that are known for offering a balanced quality of life in the form of short commutes and fatter paychecks.
If you're looking for a more flexible working arrangement stateside, you might look into the following fields. According to FlexJobs, these are 14 of the most common remote jobs where you can be your own boss, ranked by salary data from the compensation site PayScale.
Best jobs for being your own boss, anywhere in the world
10. Online tutor
Average pay: $36,233 annually
The pay for online tutors may start on the low side, but your earnings will climb if you build a specialized expertise. Tutors for exams to enter law or business school, for example, often earn more than $100 hourly, according to recent job listings on Indeed.
9. Teacher
Average pay: $49,159 annually
Qualified teachers can often earn more than tutors by working for accredited online programs.
8. Writer
Average pay: $48,489 annually
Few jobs are as well-suited to the freelance life or working remotely than being a writer, though you'd also do well to develop a specialty. Technical writers, often tasked with translating complicated industry-specific language into readable instruction manuals, make roughly $10,000 more annually on average, according to Payscale.
7. Accountant
Average pay: $49,749 annually
Accountants and bookkeepers are always in demand, though you can increase your earnings by acquiring the right certifications. To become a certified public accountant, for example, you'll need to compete 150 hours of coursework and sit for an exam, but your earnings will be significantly higher.
6. Account manager
Average pay: $51,181 annually
Account managers handle relationships in all kinds of industries and the jobs are often flexible, though there may be travel involved.
5. Nurse  
Average pay: $60,132 annually
Nurses have traditionally worked in hospitals or other medical facilities, but the field of tele-medicine is on the rise: The Kaiser Family Foundation's most recent employer survey found that 63% of large companies that provide health care plans included some of their benefits through tele-medicine, up from just 39% the year before.
4. Developer
Average pay: $69,313 annually
Remote developers earn nearly $70,000 annually, but your earnings can climb significantly as you gain more experience. Senior software developers, for example, earn about $108,000 annually, according to Payscale.
3. Business development manager
Average pay: $71,233 annually
Business development managers are usually tasked with drumming up new business for their clients or employers, and as a result you'll typically need a background in sales or some industry-specific experience.
2. Speech language pathologist
Average pay: $79,268
Speech language pathologists, like teachers or nurses, are increasingly making use of teleconferencing to work with clients from home. That said, speech language pathologists are generally required to get certified, usually by completing an undergraduate or advanced degree.
1. Client services director
Average pay: $87,575
Client services directors often work remotely — pitching services, managing relationships and keeping clients happy — according to Payscale. You'll likely have to travel depending on the type of clients or the nature of your employer.
Sign up for the Payoff — your weekly crash course on how to live your best financial life.