We need to talk about NYFW's drastic downtick in plus-size inclusion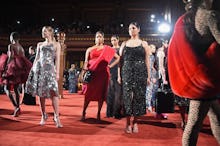 Let's start with the good news: The latest New York Fashion Week had more racial diversity and transgender and nonbinary visibility than ever before on record. And now for the bad news: Size inclusivity took a huge stumble.
In new data released by the Fashion Spot, which meticulously breaks down diversity numbers season to season, the September shows of the spring 2018 season cast 90 plus-size and curve models, while the fall 2018 season had just 26 plus or curve models.
A drop like that hasn't happened since fall 2016.
Now, September was an outlier — since it had two shows, Torrid and Addition Elle, completed devoted to the plus-size customer. Neither of those brands showed this season. Those shows' castings notwithstanding, spring 2018 still had more plus and curve models than fall 2018.
"It's definitely disheartening," model Liris Crosse, who walked in two shows this season, said in an interview. "Even for me, there were less castings to go to and less interest."
"I think it's sad that other brands don't understand what's happening in our world," Christian Siriano, who contributed to the number of plus and curve models cast this season with his truly size-inclusive show, said in an interview. "The market is changing and the customer is so much more aware of what's happening. She wants to envision herself in the clothes now more than ever. It changed our business so much to have different shapes on the runway and we get to make many different types of women feel beautiful. What designer doesn't want that?"
Part of this downward trend can be blamed on this particular NYFW season. Fall New York Fashion Weeks tend to have both fewer shows and less ornate shows. Designers tend to invest more in the spring season, according to Chromat designer Becca McCharen-Tran, who along with Siriano cast one of the most size-inclusive shows of the season.
"I feel that designers pull out all the stops for their September shows and the February shows are a little more under-the-radar," McCharen-Tran said in an email. "I was a little disappointed to see that more designers aren't booking more curve models," as if there isn't amazing talent out there, she added.
And while Crosse understands that brands are more concerned about their shows in September, she's observed a troubling trend among designers who have embraced already embraced plus-size inclusivity. "Personally I would also love to see some of the plus-size retailers and designers showing more regularly during New York Fashion Week," Crosse said. "Also, these straight-size designers who have now decided to use plus, don't fall back into your old habits."
That's a warning at least one brand needed this season. In September, Anna Sui cast Natalie Nootenboom as its first-ever plus-size mode, but this season the brand had no curve or plus models at all.
"Having curve models on the runway should not be seen as a trend, but a major shift in our thinking about what is beautiful and what is celebrated," McCharen-Tran said. "Plus sizes in high fashion aren't going anywhere. The curve market is only growing and I hope fashion continues to reflect that."
What is hopeful, however, is that Nootenboom made history at two other shows this season. She was the first curve/plus model to walk for Yuna Yang and one of the first curve models in Rosie Assoulin's show.
Although the numbers themselves are worrisome, Emme, who's known as the first plus-size supermodel and walked in the Chromat shows in both September and February, is convinced we'll see a rebound of these numbers come fall.
"When I first heard these numbers, I was like, 'Oh, my god, it's reduced,'" Emme said in an interview. "But in reality, I can say that I think we're gonna have to be patient until fall, and things will be better."
But if we're looking for an explanation here, who should be accountable for this downtick? For Crosse, who has roughly 20 years of experience in the fashion industry, it's on the designers first.
"Designers control so much more than they think," Crosse said. "A casting director can't cast a plus-size model if there's not a plus-size sample. A designer has so much control. They can make their sample in whatever size they wanna make it in. They can make it in a 24 or 16 or 14. They can make it in whatever they want to, but if the samples aren't there, then the casting director can't push them to do that."
Siriano is one of the few designers who has long been listening to sentiments like Crosse's and who thinks about size diversity as he's designing and thinking about those samples. Ahead of all his shows, he decides which garments should be made in plus sizes for the runway by thinking about what his customer would want to see.
"That's a range of evening to day and it starts right when we are working on all the pieces in the collection," Siriano said. "It's important to not be afraid to take the risk and push the ideas of what looks good on a girl with curves. Who says it doesn't? Who made up those rules? I don't follow that ever."
For Siriano, it's more than just the designers who are to blame. This sense of accountability should seep into various levels of the industry.
"It's the designers, the retailers not supporting or buying a size range, it's the casting teams, editors who don't think change is beautiful," Siriano said. "It really is a team effort. Which is why I make sure to do what we believe in, no matter who might not support it. My team is on board 1,000% with everything we do. From who we dress on the carpet to what companies we partner with, etc. It's all a big picture."
With this new drop in plus-size and curve models at NYFW — which always leads other international fashion weeks in terms of size inclusivity — it's natural to be concerned. Is there really anything we can do?
Crosse said yes, there is, and it all starts with us speaking up on social media and engaging with these designers and brands that are doing things right. "We need to applaud the designers that we do see go out there and continuously show diversity," Crosse said. "It may be annoying or hard at first to embrace the change that is needed or wanted, but I guarantee that once they start to do it regularly, they will see how much it will be a payoff."
Siriano also believes our voices have power in these circumstances.
"I think we made some great strides, but the people that are not doing anything should be called out one day or at some point," Siriano said. "Otherwise they don't think anything is wrong with what they are doing.
"I can't help anyone who doesn't believe in this idea that all people are beautiful and interesting for different and many reasons. That's something I don't have time to teach. But I will say everyone not on board is missing out on so much."