Trump freaks out over Russia investigation as Hope Hicks testifies on Capitol Hill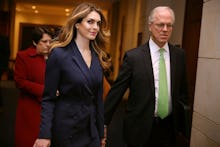 President Donald Trump broke a brief, welcome Twitter silence Tuesday morning to lash out against the Russia investigation — just before one of his most loyal aides, communications director Hope Hicks, headed to Capitol Hill to testify before the House Intelligence Committee.
"WITCH HUNT!" Trump tweeted Tuesday morning.
The spew of tweets — which also included quotes from Fox News talking heads backing up his claims of innocence — were his first since Saturday, and came hours before Hicks' closed-door hearing with the House panel.
It's not clear how much Hicks will discuss with the committee.
Steve Bannon, Trump's former chief strategist, already declined to answer many of the committee's questions about the transition or his time in the White House, citing executive privilege.
It's possible Hicks — who was originally slotted to testify in January, but delayed over questions about whether she can answer questions about anything that transpired after the 2016 campaign — will do the same.
"We don't know at this point if she will testify completely or fully as others who have served in the administration have, or whether she will do what Steve Bannon did, which was stonewall," Rep. Adam Schiff, the top Democrat on the committee, said Monday, according to CNN. "We hope obviously she will be cooperative, but at this point I don't know what we can expect."
Nevertheless, her testimony could represent a significant step in the House Intelligence probe into Russia's 2016 election meddling and any wrongdoing on the part of the president and his campaign.
Hicks, 29, has been one of Trump's closest and most-loyal aides. A Trump Organization staffer since 2014, she was by his side during the campaign, the transition and now his tumultuous first year and change in the White House. She is even said to enjoy an almost familial relationship with the president. And, unlike so many others in his inner circle, she has largely managed to maintain a low-profile.
But that changed in recent weeks when she found herself in the middle of two major scandals.
First, it was reported that special counsel Robert Mueller was scrutinizing her role in helping Trump draft the deceptive statement Donald Trump Jr. initially released last July to explain away his shady 2016 meeting with a Kremlin-connected attorney he thought had dirt on Hillary Clinton.
Then, she faced criticism for helping to craft the initial White House response backing Rob Porter, who was ousted as the staff secretary after allegations of domestic abuse against him went public.
Trump was reportedly "frustrated" with Hicks in the wake of the scandal, feeling that she prioritized her feelings for Porter — whom she is reportedly dating — over the administration.
But, CNN reported at the time, her situation has not appeared to be in jeopardy.
She did not answer questions from reporters on Tuesday morning as she arrived at the hearing before the panel, whose Russia probe has been mired in controversy for weeks since Rep. Devin Nunes (R-Calif.), the chairman of the committee, released his memo alleging that authorities abused their surveillance power in the federal investigation into the Trump campaign.
The Nunes memo was missing critical information and critics say it was misleading. But Trump latched onto it, claiming it "totally vindicates" him in the Russia probe.
Democrats, led by Schiff, pushed to refute Nunes' claims with their own memo, but Trump initially blocked its release, saying it contained "sensitive" passages and also that it was "very political and long."
But Democrats finally released a redacted version of their memo over the weekend, rebuking the Nunes report's claims that federal law enforcement overly relied on a salacious dossier to obtain Foreign Intelligence Surveillance Act warrants against Trump campaign aide Carter Page and that the FISA court was unaware of ex-British spy Christopher Steele's possible political motivations.
Further, according to the Schiff memo, the FISA warrant against Page also included information from independent sources that confirmed Steele's reporting.
Trump continued to bash the Democratic memo upon its release, calling it a "total political and legal bust."
"Just confirms all of the terrible things that were done," Trump tweeted Saturday. "SO ILLEGAL!"