In 'Apologies From Men,' the words of accused sexual harassers become the lyrics of cutesy songs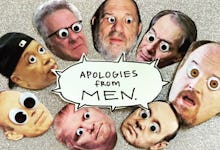 Sometimes the best way to take down the patriarchy is by throwing a handful of glitter in its face. That's comedian Lauren Maul's approach, anyway.
In November, comedian and filmmaker Louis C.K. released a statement acknowledging the validity of sexual misconduct allegations brought forth against him by five women, saying, "These stories are true." But he never actually used the words, "I'm sorry." Like with so many others — including Quartz, who edited the apology to make it better, and CNN, who questioned whether it was an apology at all — this statement annoyed the hell out of Maul.
But rather than criticize C.K. directly, Maul — a performer based in New York City — used his own words against him, editing C.K.'s statement into a song complete with a handmade, DIY stop-motion music video.
"I wanted to point out how flawed [the apology] was through song so it's more accessible than reading some long article," Maul said in a Skype interview. "Like, let's talk about how ridiculous this is just by singing about it and repeating the most annoying parts."
For Maul, the worst line in C.K.'s statement was, "I never showed a woman my dick without asking first" — so that became her chorus. Despite the seriousness of the subject matter, it's worth noting just how pleasant the song itself is. It's almost manic, as though Maul is singing it through a clenched grin.
Thus, the Apologies From Men album was born. In addition to C.K., Maul has written songs based on apologies written by other powerful men accused of sexual misconduct, like Matt Lauer and Kevin Spacey.
"I've learned that no one likes angry women, so whenever I'm mad about stuff, if I want people to listen, I have to be kind of smart about how I go about it and do it kind of sneakily," Maul said. "So that's what these songs are — a little slow burn."
But Maul's videos — with her miniature, doll-like constructions of famous men — play an equally important part in getting her point across.
"It's a horrible situation, but I'm literally belittling these men, making them small and manipulating them and turning it into something very goofy," she said. "I feel like the only way you can bring down someone really powerful in a nonviolent way is with laughter. That's why I wanted to make them the total butt of the jokes."
Maul hasn't quite finished the videos for the album yet, but she's close. On the horizon are songs dedicated to statements released by Harvey Weinstein, Mario Batali — that one involves a lot of dough, she said — and Russell Simmons. There's also an homage to the "Men Who Have Yet to Apologize," an instrumental track featuring the likenesses of other men accused of misconduct, like Ed Westwick, Roy Moore, Woody Allen, Bill Cosby and President Donald Trump.
Maul will be releasing her "Apologies From Men" album March 9. She will also be performing the album live in New York City that same day. Maul will donate the proceeds from album sales to the Rape, Abuse & Incest National Network, a national nonprofit dedicated to preventing sexual assault and helping survivors.
Correction: Feb. 27, 2018