Sarah Huckabee Sanders defends Trump's response to Russian meddling amid NSA criticism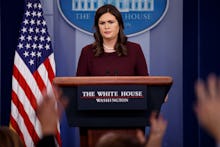 White House press secretary Sarah Huckabee Sanders on Tuesday defended President Donald Trump against critics of his apparent inaction on Russia's election interference by jabbing his predecessor, Barack Obama.
"This president, as I told you last week, has been much tougher on Russia than his predecessor," Sanders told reporters at a press briefing Tuesday afternoon. "Let's not forget that this happened under Obama. It didn't happen under President Trump."
Sanders' defense of Trump came hours after Mike Rogers, director of the National Security Agency, testified that the president had still not instructed his agency to combat potential Russian interference in the upcoming 2018 midterms.
"Clearly, what we've done hasn't been enough," Rogers said during a hearing before the Senate Armed Services Committee on Tuesday. "I believe that President Putin has clearly come to the conclusion there's little price to pay here, and that therefore I can continue this activity."
Trump has repeatedly cast doubt on the intelligence community's conclusion that Russia meddled in the 2016 presidential election, suggesting that the whole thing is a hoax concocted by Democrats to explain his upset win over Hillary Clinton.
But intelligence officials have warned that Russia will likely attempt to meddle in future U.S. elections.
"I haven't seen a significant decrease in their activity," CIA Director Mike Pompeo told the BBC in January. "I have every expectation that they will continue to try and do that."
Rogers echoed Pompeo's assessment on Tuesday, telling the Senate Armed Services Committee that the Kremlin has not "paid a price that is sufficient to change their behavior."
"Everything, both as the director of NSA and what I see on the Cyber Command side, leads me to believe that if we don't change the dynamic here, this is going to continue and 2016 won't be viewed as something isolated," Rogers said. "This is something that will be sustained over time."
Trump first claimed that he was "much tougher on Russia than Obama" in a tweet on Feb. 20.
"Just look at the facts," Trump tweeted.
The facts, of course, are not exactly on the side of the president and his press secretary here.
As PolitiFact noted Feb. 20, Trump has repeatedly slammed the Russia investigation and expressed warmth for Vladimir Putin — at one point even suggesting that he trusted his Russian counterpart over his own intelligence officials. And while much of Obama's Russia policy has remained in place under Trump, his administration earlier this year declined to implement the sanctions against the country that were overwhelmingly passed by Congress in 2017.
"The legislation is, in fact, serving as a deterrent," Trump's State Department claimed in a January statement to CNN.