Josh Raffel, top Kushner aide, to depart White House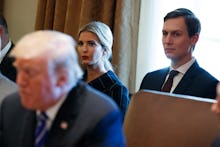 Josh Raffel — a top aide to Jared Kushner and Ivanka Trump — will leave the White House within two months, officials confirmed Tuesday.
"Whether it was offering strategic guidance on the communications for tax reform or a foreign trip, Josh's guidance was invaluable," Trump told Axios, which first reported the senior communications official's coming departure. "The White House won't be the same without him."
Raffel — a former Hollywood public relations executive — was brought on by Kushner in April and promoted in the fall of 2017 to deputy communications director, where he has worked with Hope Hicks.
He has run communications for Kushner's Office of American Innovation — which is tasked with reducing federal bureaucracy to make the government "run like a great American company." He has also served as the primary spokesperson for Kushner, who has increasingly come under scrutiny in the federal investigation into Russia's 2016 election interference.
Kushner — President Donald Trump's son-in-law and senior adviser — has been operating on temporary security clearance for more than a year over a number of undisclosed contacts with Russians and other foreign officials on his clearance application forms.
And, according to recent reports, he is unlikely to get permanent clearance while Mueller's investigation continues.
Raffel — who served as a right-hand man to Kushner and Ivanka Trump — was also reported in November to be among several White House officials slated to be interviewed by Mueller.
His pending departure, the Washington Post noted Tuesday, will likely fuel questions about Kushner's standing in the administration.
Raffel, who was reportedly a Hillary Clinton supporter, had taken on an expansive portfolio during his time in the Trump White House, including leading the communications effort related to Israeli-Palestinian peace negotiations, according to Axios.
The deputy communications director will become the latest high-ranking official to depart the White House, which has seen a significant number of resignations and ousters during Trump's tumultuous first year and change in office.
He will reportedly return to the private sector.