Dick's Sporting Goods to stop selling assault-style rifles: "We believe it's time to do something"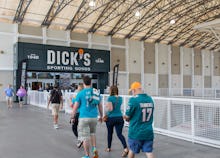 Dick's Sporting Goods, one of the largest sporting goods chains in America, announced on Wednesday that it will stop selling assault-style rifles and bump stocks, and will raise the minimum age to buy a gun in their stores to 21 — a response to the latest mass shooting, in Parkland, Florida.
"We deeply believe that this country's most precious gift is our children. They are our future. We must keep them safe," the store said in a Wednesday morning tweet announcing the new gun policies in their stores, adding "We believe it's time to do something about it.
Nikolas Cruz, the alleged shooter at Marjory Stoneman Douglas High School in Parkland, purchased a gun at Dick's, according to CNN.
Dick's also called on lawmakers to "enact common-sense gun reform," including an assault weapons ban, raising the minimum age requirement to purchase guns, banning high-capacity magazines and bump stocks and strengthening background checks.
"We hope others join us in this effort to let our kids know that their pleas are being taken seriously," the store said in a statement.
"Some will say these steps can't guarantee tragedies like Parkland will never happen again," the store continued. "They may be correct — but if common sense reform is enacted and even one life is saved, it will have been worth it."
Gun sales are a major source of income for brick-and-mortar sporting goods stores. After President Donald Trump's election, gun sales slowed, hurting earnings reports at major retailers such as Dick's and Bass Pro Shops.
Dick's Sporting Goods' CEO Edward Stack acknowledged that his company's new gun rules could hurt business.
"The whole hunting business is an important part of our business, and we know there is going to be backlash on this," Stack told the New York Times. "But we're willing to accept that."
Dick's Sporting Goods is not the only company that's been influenced by the gun debate.
A number of other major retailers have dropped discount programs offered to members of the National Rifle Association in the wake of the shooting at Marjory Stoneman Douglas High School that left 17 students and staff dead.
The push for retailers to drop the NRA discount came from students who survived the shooting.