How public opinion is swaying corporations to enact an assault weapons ban before politicians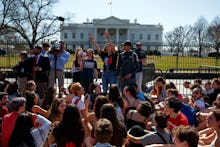 Welcome to Mic's daily read on Donald Trump's America. Want to receive this as a daily email in your inbox? Subscribe here.
Wednesday's dispatch: Corporations moving faster than Congress on guns
On Tuesday, the National Rifle Association again demonstrated its ability to prevent action on guns. Republican lawmakers proposed legislative changes that Democrats either would not support or said would not go far enough. And a modest proposal to improve the existing background check system hit opposition Tuesday, while House Republicans declined to commit to taking up a Senate bill that would require federal agencies to report criminal activity to the FBI.
That legislation goes nowhere near what many Americans are demanding. Nationwide support for restrictions on gun sales, like an assault weapons ban, are at an all-time high, according to a recent Quinnipiac poll. A recent Harvard/Harris poll found 61% of Americans support an outright ban on the AR-15, and a CNN poll said 57% of Americans back a ban on the AR-15.
Broadly speaking, recent polls have shown that nearly three-quarters of Americans want lawmakers to pass stricter gun laws in the wake of the deadly Parkland, Florida, mass shooting.
Leading corporations appear to be taking notice. In the weeks following the shooting, in which the gunman used an AR-15, the NRA has resisted nearly all proposals that would make it more difficult for Americans to purchase military-style firearms. In response, car rental providers, banks, airlines, home security companies and other corporations have ended their discounts to NRA members.
On Wednesday morning, Dick's Sporting Goods made an announcement that cuts to the core of the NRA's constituency: gun manufacturers. The company said it will end sales of AR-15s and other military-style guns at all of its stores. Walmart made a similar decision in 2015, ending the sale of AR-15s and similar guns in the wake of mass shootings.
This is far from the first time corporations have taken the lead ahead of lawmakers to enact reforms that most Americans support. Many companies instituted policies to specifically protect LGBTQ employees in the 2000s before court rulings afforded those employees at least some legal protections. And nearly 400 of America's largest companies asked the Supreme Court to allow gay marriage in 2015.
Meanwhile, gun sales have been falling since President Donald Trump was elected. After Trump's victory, gun enthusiasts became less fearful that laws would be passed that ban the sale of certain firearms. American Outdoor Brands, one of America's largest gun manufacturers, saw gun sales decline nearly 50% between the same quarter in 2017 and 2016.
A continued slump in gun sales, combined with corporations moving away from selling semi-automatic firearms, could slowly convince politicians new restrictions on the sale of guns routinely used by mass shooters would be politically smart.
Today's question: Do you shop at companies based on their values?
Please email us at trumpsamerica@mic.com with your thoughts.
Wednesday in Trump's America:
Flipping: Democrats running in New Hampshire and Connecticut special House elections won on Tuesday night, flipping Republican-held districts. Democrats have flipped 39 state House seats since Trump's election, outperforming past Democrats by an average of 15 percentage points.
Telling lies: White House communications director Hope Hicks, a longtime confidante to Trump, reportedly told the House Intelligence Committee on Tuesday that she occasionally tells white lies for him. She reportedly maintained she has not lied about the Russia investigation.
Ben Carson: The secretary of the U.S. Department of Housing and Urban Development reportedly spent $31,000 on a dining set for his government office using taxpayer dollars. The news comes as the Trump administration has proposed deep cuts to HUD's budget. Meanwhile, HUD's former chief administrative official says she was demoted because she would not approve spending more than $5,000 to redecorate Carson's office.
Russian influence: Adm. Mike Rogers, who oversees the National Security Agency and U.S. intelligence gathering, told lawmakers Tuesday that Trump has not given him the authority to retaliate against Russian attempts to influence U.S. elections. The White House defended Trump, saying, "Nobody is denying [Rogers] the authority."
Jared Kushner: Trump's son-in-law and top adviser Jared Kushner has lost his top-level security clearance, which had been temporary for a year, after a review from White House chief of staff John Kelly.
Net neutrality: Washington became the first state to pass a bill requiring net neutrality protections. The Federal Communications Commission rolled back Obama-era net neutrality protections in 2017. Washington's law forbids internet providers from slowing or stopping the loading of lawful websites.
DCCC: In the wake of the Las Vegas mass shooting in October, the Democratic Congressional Campaign Committee told candidates to not push for gun control measures and, instead offer "thoughts/prayers."
Anti-semitism: The Anti-Defamation League said anti-Semitic crimes surged 60% in 2017.
Pa. special election: Republican dollars are pouring into a U.S. House race near Pittsburgh to shore up support for Rick Saccone, the Republican running neck and neck with Democratic challenger Conor Lamb. The special election could be the one House seat Democrats manage to flip before the 2018 midterm elections, which would send a shockwave through the GOP.
Citizen legislature? The average wealth of a member of Congress is about $4.54 million.
Texas voting: In a shock to election observers, more Democrats have voted early in Texas than Republicans. The margin has triggered alarm among state Republican leaders and Trump, who tweeted Tuesday urging Texans to vote early for GOP candidates.
Opioids: A bipartisan coalition of senators introduced a bill Tuesday to spend an additional $1 billion annually to support evidence-based programs that will fight the drug overdose epidemic.
Sex trafficking bill: The House passed a bill Tuesday that gives law enforcement more power to target websites that knowingly aid sex traffickers.
Air Force One overhaul: Trump has reached a deal with Boeing to spend $3.9 billion on new presidential aircraft. Shortly after his victory, Trump derided the more than $4 billion cost of the project as "out of control."
Today's MicBite:
As the nation remembers the Parkland shooting victims and #TrayvonMartin — who was killed six years ago Monday — there's a debate about increasing school safety that could yield bad results for black and brown students.
Correction: Feb. 28, 2018
An earlier version of this story misstated the date of Trayvon Martin's death. He died on Feb. 26, 2012.