Transgender woman Phylicia Mitchell fatally shot in Cleveland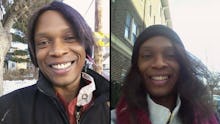 Phylicia Mitchell, 46, was fatally shot outside her Cleveland home Friday, Cleveland.com reported Monday. Mitchell's death marks at least the fifth reported homicide of a trans person in the U.S. so far in 2018. Earlier in February, Celine Walker was shot and killed in a Jacksonville, Florida, hotel room. News of Walker's death came just days after reports that Tonya Harvey, also a trans woman of color, was killed in Buffalo, New York.
Mitchell's partner, Shane Mitchell, told Cleveland.com the two had been together for around 30 years. Although they never legally married, Phylicia Mitchell took Shane Mitchell's last name in 2017 and the couple had a small celebration of their relationship at a church. "It was like a mock wedding," Shane Mitchell told Cleveland.com. "We had a few friends come, some of her family. It was awesome."
Shane Mitchell remembered Phylicia Mitchell as a warm, well-liked person who easily won over his nieces and nephews. She had gotten her GED diploma and worked as a hairstylist during their time together, Shane Mitchell said. The two struggled with homelessness and drug addiction, and Shane Mitchell told Cleveland.com they argued about her drug use just weeks ago and separated when he told her he couldn't live with someone who used drugs. But they remained in touch and had seen each other the day before Phylicia Mitchell's death.
"I miss her tremendously," Shane Mitchell told Cleveland.com. "That's my soul mate. We went together everywhere. We did everything together. We always held hands on the bus. Years ago people didn't respect that, but they do now."
Sgt. Jennifer Ciaccia, a spokesperson for the Cleveland Division of Police, said in an email Wednesday there had been no arrests in Phylicia Mitchell's death but that the investigation was ongoing. Ciaccia urged anyone with information to contact the police department's homicide detectives.
While trans people make up just 0.6% of the U.S. population, according to a 2016 estimate, the trans community — and especially trans women of color — face disproportionately high rates of deadly violence. In 2017 alone, at least 25 trans people were reported killed, but advocates say violence against trans people is often underreported and that the real number of victims is likely far higher.