How Dr. Loretta fought med school misogyny in the 1970s to later create her own skin care line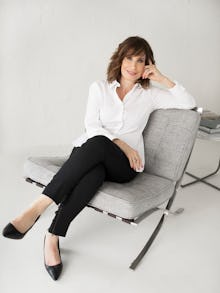 Dr. Loretta Ciraldo's journey to her own skin care line — eponymously named Dr. Loretta — began more than 40 years ago, when she found herself among a new guard of women allowed into medical school in 1974.
That year, Downstate Medical College of the State University of New York admitted a class with 25% women, who — Ciraldo included — all immediately faced a barrage of misogyny.
"Many of the men had the feeling that the standards were being lowered," Ciraldo said in an interview with Mic. "How could they have 25% women who were worthy of becoming doctors? Why are we letting them take up these slots when they're all just going to end up wives and mothers? There was an overwhelming sense that the appropriate thing for women would to only be pediatricians or obstetricians, and that's it."
Ciraldo would end up proving them wrong. In 1975, she did research in the dermatology department of Harvard Medical School, studying the effects of UVA rays at a time when many people believed they didn't reach the Earth's surface — which was false. That set Ciraldo on a path to become a dermatologist, as did a dermatology residency at the Albert Einstein College of Medicine in the Bronx, New York, where she continued to face harassment from her peers.
"The preponderance of residents were men," Ciraldo said. "I'd be in clinic, and the first thing the guys would say was, 'You know, Loretta, you're really nice but you're taking up a spot here.' By the time I started my residency I was already married, and it was like, 'Well, you know, you're gonna become pregnant and never work.'"
Again, Ciraldo proved them wrong, with Ciraldo being selected as chief resident and eventually becoming a certified dermatologist in 1982. Ciraldo said the unbreakable, headstrong attitude she adopted as a result of constant doubt from her peers paved the way for her to create her own skin care line in 2018, which is trying to get people to rethink what is really damaging their skin.
"All of these challenges and the time I came up in medicine totally led me to who I am and, I think in many ways, to the uniqueness of my views on skin care," Ciraldo said.
After performing thousands of total body exams as a dermatologist in Miami, she saw a striking difference between exposed and unexposed skin, aka the skin that is most always covered with clothing, like on the buttocks.
"What goes on is that when you look at anyone with advanced sun damage, they're wrinkled and they've got sagging [skin] and they're very old-looking," Ciraldo said. "And then you're doing the total body exam and you look at their buttocks. There's a big different between one cheek and the other cheek — the face and the backside."
For decades, Ciraldo said, the sun has been dermatologists' first thing to blame. But according to her, the sun is not entirely responsible for this damage. Instead, it's more like four things: climate, irritants, light and pollution.
With that knowledge, Ciraldo and her business partner, Myriam Zaoui Malka, who co-founded the Art of Shaving, are fusing science with nature and bringing medical-grade products that aim to protect the skin against these four external factors to the masses. After years of trying to perfect formulas and yield results, the two launched Dr. Loretta on Feb. 20.
"Our goal is to try to match the unexposed skin, that has not been put through these four factors, to your more exposed skin," Ciraldo said. "It truly isn't just your diet or your chronological age that's causing your skin to age. It's not just your hormones."
They've recognized that visible aging changes are multi-factorial, and with the products they have — which include cleansers, serums, moisturizers, peels and more — they're trying to fight four different factors at once.
Once again, Ciraldo finds herself trying to prove people wrong. With a track record like hers, it'd be foolish to doubt her.
"A couple of years ago, I was in the process of doing this [skin care line] and I ran into the man whose lab I used to work in," Ciraldo said. "I told him that this was 100% thanks to him, because he taught me to look at things and not just accept the party lines. Back in 1975, we said UVA doesn't reach the surface of the Earth. Wow, were they wrong. Keeping our skin unexposed and protected in this new way might just prove to be like those UVA rays."