How Florida gun control legislation is moving forward after the Parkland shooting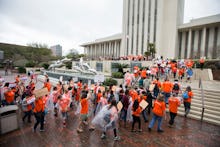 The Feb. 14 mass shooting at Marjory Stoneman Douglas High School has sparked a nationwide effort toward gun control, including in Florida, where the deadly shooting took place.
In the weeks after the attack, lawmakers in Florida have moved forward on sweeping legislation addressing the deadly shooting in the city of Parkland, with bills going to the state's House and Senate floors after passing in committee. The new legislation addresses a number of gun control and safety efforts that lawmakers hope will prevent future attacks. However, the legislation is not necessarily the comprehensive gun control reform that advocates are demanding.
House and Senate bills
The two bills currently moving forward in the Florida legislature are HB 7101 and SB 7026, also known as the Marjory Stoneman Douglas High School Public Safety Act. Both bills were approved Tuesday during committee hearings and will now move to the floor for a vote, which the SunSentinel anticipates will take place Thursday or Friday.
The House and Senate bills are largely similar in nature, with gun control provisions that include raising the age on firearm purchases from licensed dealers to 21, imposing a three-day waiting period on purchasing all firearms, rather than just handguns and enacting bump stock regulations. The House version of the bill would ban both the sale and possession of bump stocks and similar devices, while the Senate version would only ban their sale.
Also included in the bills are provisions that would enable law enforcement to take away firearms from individuals who are deemed to be a risk to themselves or others. Both the Senate and House bills would enable law enforcement to seize any firearm by individuals who have made a credible threat. The Senate bill also establishes a process for law enforcement to petition a court for a "risk protection order" that bars individuals "who are at high risk of harming themselves or others" from possessing firearms.
The bills also take steps to improve the safety of Florida schools, establishing a Marjory Stoneman Douglas High School Public Safety Commission to investigate system failures in the Parkland shooting and other mass violence incidents, as well as implement systems that allow students and community members to anonymously report suspicious behavior. They'd also expand mental health funding and treatment in schools and require districts to assign "safe-school" or "school resource" officers and "threat assessment" teams at each school facility.
Controversially, the bills also allow for certain teachers to carry firearms on school property. The legislation establishes the voluntary Florida Sheriff's Marshal Program, which enables staff to carry firearms in schools if they undergo 132 hours of training, a background check, drug testing and a psychological evaluation. The House version of the bill would require sheriffs to offer the marshal program training and give school superintendents the ability to decide whether or not to take advantage of it, while the Senate bill would make the program voluntary for both sheriffs and superintendents.
Florida Gov. Rick Scott disagrees with the proposed program, saying Tuesday that he "[doesn't] believe we should be arming our teachers," but has yet to decide whether the marshal program provision will cause him to veto the bill.
"I'm going to review whatever makes it to my desk. I'll review it at that time," Scott said Tuesday when asked if he would veto a bill that included arming teachers.
The House and Senate bills do take action against firearms. However, the legislation wouldn't provide comprehensive gun control reform. The House and Senate committees reportedly struck down amendments to the bills that would ban assault weapons, require anyone applying for a concealed carry permit to have a letter from a doctor saying they're of sound mind, close the "gun-show loophole" and repeal a state ban on the firearms registry.
Even the regulations proposed in the bill have big loopholes. The proposed age increase does not apply to private gun sales, for instance, and the risk protection order provision does not go as far as similar laws enacted by other states, which allow family members to petition the court in addition to law enforcement.
"Some of the loopholes in this bill are large enough to drive a truck through," state Sen. José Javier Rodríguez, a Democrat from Miami, said Monday about the Senate bill.
The proposed gun control measures also come as the Florida legislature prepares to consider other legislation that would expand, rather than restrict, gun rights. State lawmakers are expected to soon vote on a measure that would allow concealed weapons in churches and on school grounds when school is in session, as well as a separate piece of legislation that would allow individuals to receive concealed carry permits without undergoing a background check, ThinkProgress reported.
Reactions to the bills
The proposed Senate and House bills aren't necessarily in line with what Florida voters are reportedly supporting in the wake of the Parkland shooting. A Quinnipiac University poll conducted between Feb. 23-26 found that 62% of Florida voters were in favor of an assault weapons ban, while 56% opposed the idea of educators carrying guns in schools — the opposite of the provisions laid out in the proposed legislation.
"It could easily cause additional chaos and fatalities," Linda Beigel Schulman, the mother of slain Marjory Stoneman Douglas teacher Scott Beigel, told legislators about the proposal to arm teachers. She noted that if another shooting takes place, "with the ongoing chaos, law enforcement could unintentionally shoot at a teacher."
As recorded on Twitter, gun control proponents reacted strongly to the Senate Rules Committee striking down an amendment to the bill banning assault weapons, chanting "Vote them out."
"An AR-15 is not meant for self-defense," Bela Urbina, a 15-year-old student at Marjory Stoneman Douglas, said during the Senate hearing, according to the Orlando Sentinel.
Gun control advocates have had a strong presence at the state Capitol in the weeks since the Parkland shooting. Student survivors of the massacre met with state legislators on Feb. 21 to discuss their demands for gun reform, while Parkland parents and demonstrators from Women's March Florida and other state groups descended on the state Capitol in Tallahassee Monday for a "rally in Tally."
Despite their complaints about some of the proposed legislation's specific provisions, or lack thereof, members of the Parkland community still heralded the bills as an important "first step."