GOP ditches tax reform message for dog-whistle politics in competitive Pennsylvania election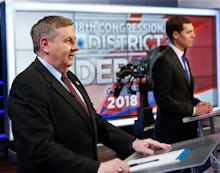 As the congressional special election in Pennsylvania's 18th district draws near, a super PAC tied to House Speaker Paul Ryan has ditched its tax reform message and is now attacking the Democratic nominee over sanctuary cities.
The shift in strategy comes less than two weeks before the March 13 special election in this suburban Pittsburgh district, which is being held to replace Rep. Tim Murphy. A GOP lawmaker, Murphy resigned amid a scandal after reports surfaced that he allegedly tried to force a mistress to have an abortion.
Despite running ads on the tax reform bill that Republican leaders said will be a major factor to saving their congressional majority in the 2018 midterm elections, the race has actually tightened in recent days. Republican Rick Saccone is now only holding a single-digit lead over Democrat Conor Lamb, according to public polls.
The Congressional Leadership Fund — a PAC aligned with Ryan — ran a handful of ads attacking Lamb for not supporting the tax reform bill and tying him to House Minority Leader Nancy Pelosi, the GOP's designated boogeywoman.
"How do we know Conor Lamb will join Pelosi's liberal flock? He already has. Lamb joined Pelosi to oppose a middle class tax cut, calling your tax cut 'crumbs,'" a narrator says in one CLF ad released at the end of January.
"How do we know Conor Lamb is a Pelosi liberal? Lamb joined Pelosi to oppose your tax cut," a narrator says in a second CLF ad from early February.
"A $2,900 middle-class tax cut for our community, now businesses are giving workers raises and bonuses and creating jobs, yet Nancy Pelosi and Conor Lamb are still opposing your tax cut," a narrator says in yet another CLF spot from Feb. 23.
Yet on Wednesday, CLF appears to have changed course, swapping that message out for a new spot that says Lamb supports sanctuary cities — a similar message to the one Republicans unsuccessfully used in Virginia in 2017.
"Does Conor Lamb share our values?" a narrator says as a photo of a white couple appears on screen. "Lamb worked in the Obama administration that encouraged sanctuary cities, which put illegal immigrants who commit crimes back on the street. Now Conor Lamb wants to help Nancy Pelosi give amnesty to millions of illegal immigrants."
The sharp change in talking points in the final days of a tightening contest is a sign that the tax reform message was not gaining traction for Republicans.
The fact that the contest is competitive at all is already bad news for Republicans.
Republicans have had a strong grip on the seat for years. Before Trump won the seat by a 20-point margin in 2016, GOP presidential nominee Mitt Romney won the seat by 17 points.
Yet Lamb — a prosecutor and veteran — has made this into a competitive race, forcing Republican groups to spend roughly $7 million on ads to aid their candidate in this seat, according to a source tracking ad buys in the district.
On Tuesday, the Cook Political Report, a non-partisan political handicapping outlet, declared the race a toss-up.
"It's not normal for Republicans to be worried about losing a seat President Trump carried by 20 points," Cook Political Report's David Wasserman wrote in a piece on the race rating change.
But Wasserman said the contest is "exceedingly close," and added that, "Republican operatives are preparing to spin a loss as the result of an unfavorable candidate contrast."