Crowdfunding your way to homeownership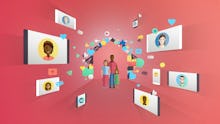 There's no moment more triumphant in the journey to homeownership than receiving the keys to your first home. But in order to get there, you'll need to conquer many hurdles — including the infamous and often intimidating down payment. According to recent research from the National Association of Realtors®, 24% of buyers under age 36 saved for their down payment for more than two years.
While saving is one great way to get started, it's never too early to start working with a real estate agent to better understand the buying process and help inform your decision-making. For example, if you're eager to jump-start the process, they may recommend subsidizing your down payment funds by applying for state and local homebuyer assistance programs.
Another option you may want to consider is crowdfunding. While it's more commonly used to produce a film or to recover from an unexpected life event, it could also help fund your dream home. NAR research also found that 25% of homebuyers ages 36 and younger used a gift from relatives or friends for some or all of their down payment.
Platforms have popped up that simplify this process: HomeFundMe, which launched last year, and Feather the Nest. "The No. 1 impediment for first-time buyers is down payment savings," said Chris George, CEO of CMG Financial, the parent company of HomeFundMe. "They have the necessary credit and income, but with the overhang of student loan debt and high rent, it's hard to save."
An estimated 1,500 "nesters" have used Feather the Nest to crowdfund a down payment since 2014, according to company president Beth Butler, with an average goal of $10,000 to $15,000.
To determine whether this method is for you, consider these first-hand experiences where real estate crowdfunding (and the unexpected kindness of others) helped first-time buyers fulfill their dreams of homeownership.
Jeremy and Marisela Tome in Austin, Texas
Jeremy Tome, 35, and his wife Marisela, 28, always planned on buying a house someday but were thwarted by the hot housing market in Austin, Texas, where they wanted to establish their roots. After saving toward their goal for five years, during which they grew their family, the couple felt frustrated by continually rising prices. Now looking for a place to call home not only for themselves but also their 4-year-old daughter and 2-year-old son, the Tomes' real estate agent introduced them to more affordable neighborhoods with larger houses to accommodate their family.
Their agent helped them navigate a tough, tight market in Austin by expanding their search beyond South Austin and brought them to a house that was perfect for the family in every way. They were just a little short on their down payment, so their lender at CMG Financial recommended crowdfunding extra funds to make the down payment.
Jeremy admitted he was a bit skeptical at first, and the couple felt awkward about asking people to donate money. Although the couple had been scrimping, saving and paying down debt for years to prepare for homeownership, "We figured it couldn't hurt to try," Marisela said. "We were pleasantly surprised at the help we received from my parents and my husband's mom."
Between their crowdfunding donations, matching contributions and grants, the couple raised $3,600 in 10 days.
Now, the Tomes and their kids have a place to call their own, where they gratefully welcome and host the family and friends who supported their journey to homeownership. In their two-level single-family home with five bedrooms, 2.5 bathrooms and a yard, the most important space is the little storage closet under the stairs, designated as a favorite hiding place by their 4-year-old.
Alexy Diaz and Yoana Anoceto in Tampa, Florida
Alexy Diaz, 36, and Yoana Anoceto, 40, had been saving for a down payment for a future home, but their path to homeownership wasn't a straightforward one. What began as an unfortunate incident catapulted the home-buying process forward for them.
Just before Christmas, Diaz received a phone call from Anoceto that the townhouse they had been renting in Tampa, Florida, had burned down. The couple and their 10-year-old son needed to find a new place to live.
"A friend of our family saw the posts on Facebook about what had happened to us and suggested we get in touch with her son," Diaz said. The son introduced them to the concept of crowdfunding to subsidize a down payment. Through HomeFundMe, Diaz's family raised $2,223 for their down payment. His sister also set up a Facebook fundraiser to help the family recoup their losses.
The platform found the family a fundraising coach and incentivized homebuyer classes by offering matching contributions of $2 per $1 donated, up to as much as $2,500, depending on the buyer's household income.
Along with an outpouring of support from their community, the family was able to find a home in need of renovations within their budget. While it may seem daunting for first-time homebuyers to consider a fixer-upper, a real estate agent can often negotiate lower prices for homes in need of an upgrade or ones that have been on the market for a long period of time.
Today, Diaz continues to take homeownership classes and work overtime to cover renovation costs. He's eager to reunite his family under one roof again, once renovations are complete. To save extra money for their move, Diaz has been staying at his brother-in-law's, while Anoceto and their son stay with friends.
"The future came a little faster than expected with the help of [crowdfunding]," Diaz said. His family is not only thankful for the community who has rallied behind them, but also for the new chapter that begins with their first home.
Is crowdfunding for you?
While the Tomes and Diazes highly recommend crowdfunding, Jeremy Tome said the biggest hurdle was stepping outside their comfort zone by asking others for help.
As difficult as it may be to ask for financial help or reach a crowdfunding goal, potential homebuyers receive all contributions, whether or not their target is reached. Regardless of the outcome, because there's no need to repay those who give a donation, crowdfunders find their own ways to thank their donors for their generosity, from inviting them over for a home-cooked meal to personalized social media shoutouts.
And while using a crowdfunding platform does not guarantee reaching your fundraising goal, it does have the ability to bring your homeownership dreams closer to reality. With your crowdfunded down payment in hand, you'll be ready to begin your journey to homeownership. Start your home search today by finding a real estate agent at realtor.com/GetRealtor.