Armed teacher in Georgia arrested after barricading themselves in classroom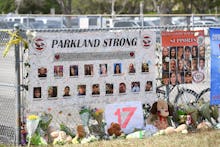 A Georgia high school teacher who brought a firearm to school and barricaded themselves into a classroom was arrested Wednesday.
The incident took place at around 11:30 a.m. Wednesday morning at Dalton High School, located in the northwest corner of the state, ABC News reported.
Students were attempting to get into the unnamed teacher's classroom, but the teacher wouldn't let them in. The school's principal later arrived, heard a gunshot when he unlocked the door, which led to the principal putting the school on lockdown.
No students were injured, the Associated Press reported.
The incident comes as President Donald Trump argues that teachers should be armed in order to prevent mass shootings, such as the one in Parkland, Florida, on Feb. 14, which killed 17 students and faculty members.
Trump said having armed teachers would deter potential school shooters, who would fear getting shot and killed. However, critics say it could lead to more people getting hurt in a mass shooting situation, or could lead to other problems such as accidental shootings or incidents such as the one at Dalton High School.
This story is breaking and will be updated.