Hope Hicks to resign as White House communications director, per report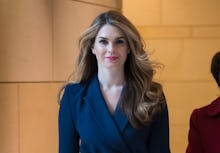 White House communications director Hope Hicks is resigning, the New York Times reported Wednesday, becoming the latest senior staffer to leave President Donald Trump's administration.
Hicks' resignation comes a day after she had a marathon interview with the House Intelligence Committee on Capitol Hill. During that interview, Hicks said she told "white lies" during her time working for Trump, the New York Times also reported, but never lied about anything related to Russian interference in the 2016 presidential election.
Hicks, however, told colleagues that she is resigning simply because she felt she accomplished everything she could, according to the Times report.
Trump praised Hicks in a statement the paper published.
"Hope is outstanding and has done great work for the last three years," Trump said in the statement. "She is as smart and thoughtful as they come, a truly great person. I will miss having her by my side, but when she approached me about pursuing other opportunities, I totally understood. I am sure we will work together again in the future."
Hicks had an astronomical rise in politics.
Now 29, she joined Trump's presidential campaign in 2015 as press secretary having almost no political experience. Prior to joining Trump's campaign, Hicks was a model who also did PR for first daughter Ivanka Trump's fashion line.
After Trump won, Hicks stayed on during the transition and later moved to the White House, initially as an assistant to the president and director of strategic communications.
However, Hicks was quickly elevated to communications director after a series of previous communications directors either resigned or, in the case of her predecessor Anthony Scaramucci, were fired.
The past few months of her tenure with Trump have been rocky.
Hicks' role in crafting a statement regarding a meeting first son Donald Trump Jr. held in Trump Tower is under scrutiny by special counsel Robert Mueller.
And her reportedly now-ex boyfriend, Rob Porter, was forced out of his role at the White House after it was revealed that Porter's ex-wives accused him of domestic violence.