Jared Kushner is drowning in probes, politics and damning reports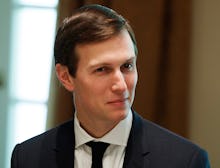 The young prince of the House of Trump appears to be in trouble.
Jared Kushner, whose once great White House influence has been in steady decline since John Kelly took over as chief of staff, is being pummeled in recent weeks by escalating investigations and damning reports.
The latest haymaker comes via the New York Times, which on Wednesday reported that his family real estate business scored hundreds of millions of dollars in loans from lenders who had recently met with him at the White House in 2017. This renewed major questions about the conflicts of interest that plague Kushner and so many others in President Donald Trump's White House, and further cast his standing within the administration in a cloud of uncertainty.
The Times report came during a particularly bad stretch of news for Kushner. On Friday, he had his top-level security clearance taken away by Kelly — a move some experts in recent days have suggested could make it impossible for him to fulfill his job duties, which include overseeing the Middle East peace effort and revamping the entire federal government.
"I'm pretty confident that he can't do his job," John Sipher, a former senior CIA official, said in an MSNBC interview. "I think this puts him in a very difficult position that he can't continue."
On Tuesday, the same day that news broke of his security clearance downgrade, Kushner was the subject of a report in the Washington Post that alleged foreign officials had discussed exploiting the senior adviser's vast web of business interests and financial woes.
Then it was reported that New York's Department of Financial Services is probing Kushner's relationship with Deutsche Bank and two other lenders. This is all while he remains a significant focus of special counsel Robert Mueller's Russia investigation.
Kushner appears to be drowning in probes and White House politics. He feels that "everyone is out to get him," an unnamed source told CNN Wednesday.
Kushner's menu of responsibilities has reportedly shrunk in the months since Kelly took over for Reince Priebus in July, with the retired general seeking to impose a sense of order on the chaos that has engulfed the White House since Trump took office.
It's not clear that things will improve for Kushner now, as the Times report on his shady loans raises the specter of potential legal peril he could face.
According to the paper, Kushner Companies, his family real estate firm, received a $184 million loan in November from Apollo Global Management. This was not long after one of the company's founders, Joshua Harris, spent time advising the White House on infrastructure policy and meeting with Kushner about a potential gig in the administration.
Kushner Companies also received a $325 million loan from Citigroup in March 2017 — just after Kushner met with the corporation's chief executive, Michael L. Corbat, to discuss financial and trade policy, according to the Times.
Spokespeople for Kushner and his family company downplayed the report, claiming that he played no role in obtaining the loans. But experts said the deal illuminates the massive conflict of interest concerns about the president's son-in-law.
"This is exactly why senior government officials, for as long back as I have any experience, don't maintain any active outside business interests," Don Fox, the former acting director of the Office of Government Ethics during the Obama administration, told the Times. "The appearance of conflicts of interest is simply too great."