Hope Hicks is the 15th high-profile Trump administration departure since the president took office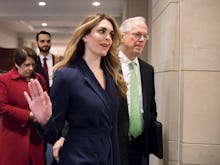 Welcome to Mic's daily read on Donald Trump's America. Want to receive this as a daily email in your inbox? Subscribe here.
Thursday's dispatch: The 15 high-profile departures since Trump took office
The turnover at the top of the Trump administration has been extraordinary, with more than 15 officials departing top government jobs since January 2017. Their reasons for leaving have ranged from improper stock purchases to facing accusations of domestic violence. On Wednesday, communications director Hope Hicks announced her departure from the White House.
In chronological order:
Sally Yates: The acting attorney general was fired 10 days into the Trump administration because she refused to enforce President Donald Trump's travel ban on people from seven Muslim-majority countries. Yates, appointed by Barack Obama, has since criticized Trump's oversight of the Department of Justice.
Michael Flynn: A top Trump supporter on the campaign trail, former national security adviser Michael Flynn resigned in February 2017 after he lied to top White House officials, including Vice President Mike Pence, about his contacts with the Russian ambassador. Flynn pled guilty in December to making false statements to the FBI about those conversations.
James Comey: Trump fired then-FBI Director James Comey in May as he oversaw the investigation into alleged connections between Trump and Russia during the 2016 presidential election.
Michael Dubke: The low-profile communications director at the White House resigned in May. Dubke was reportedly concerned about being fired as he was divesting from communications firms to hold his government job.
Walter Shaub: The head of the office of government ethics stepped down in July with deep criticism of the Trump administration's approach to ethics. He said the United States was "pretty close to a laughing stock" for how Trump officials approached ethics rules.
Sean Spicer: In July, after Anthony Scaramucci was hired as communications director, Trump's first press secretary resigned.
Reince Priebus: Trump's first chief of staff also resigned, following Spicer, shortly after Scaramucci was brought into the White House.
Anthony Scaramucci: "The Mooch" was fired after working at the White House for only 11 days. An expletive-ridden interview with the New Yorker emerged in which Scaramucci accused then White House chief strategist Steve Bannon of trying to "suck" his own "cock."
Steve Bannon: In August, Trump fired his top campaign and White House political adviser. Bannon went on to back Roy Moore in the Alabama Senate special election; Moore faced multiple allegations of pedophilia and relationships with teenage women.
Tom Price: The secretary of health and human services resigned in September after spending tens of thousands of taxpayer dollars on chartered flights to conduct government business.
Dina Powell: In December, Trump's deputy national security adviser said she would leave the White House.
Omarosa Manigault-Newman: A former contestant on The Apprentice, Manigault-Newman oversaw public engagement at the White House. She was fired in December and has since returned to reality television on Celebrity Big Brother.
Brenda Fitzgerald: The Centers for Disease Control and Prevention director Brenda Fitzgerald resigned in January after reports emerged she bought stock in tobacco companies after taking the post. The CDC oversees U.S. efforts to limit smoking.
Rob Porter: Two ex-wives of the White House staff secretary accused Porter of domestic abuse. That triggered Porter's resignation and a controversy over whether top White House officials protected Porter.
Hope Hicks: Trump's longtime communications aide resigned Wednesday, a day after marathon testimony before the House Intelligence Committee about her knowledge of Russian connections, in which she reportedly said she tells Trump white lies.
Today's question: Is this administration stable?
Please email us at trumpsamerica@mic.com with your thoughts.
Thursday in Trump's America:
Gun meeting: Trump said Wednesday he is open to gun control proposals long opposed by the National Rifle Association and Republicans. Trump pushed lawmakers to raise the minimum age to buy a gun from 18 to 21, require universal background checks and potentially ban certain guns.
Trump told one Republican "you're afraid of the NRA" and threw cold water on a concealed carry rights bill that has passed the House yet languished in the Senate. "You'll never get it passed," Trump told Rep. Steve Scalise (R-La.), the No. 3 House Republican. Trump also said, "Take the guns first, go through due process second," when describing how law enforcement should handle reports of troubled people who own guns.
Democrats and guns: Party leaders argue making a national push for stronger gun control laws will hurt Democrats in key races they could otherwise win in 2018.
Arming teachers: An armed teacher in Georgia barricaded himself in a classroom on Wednesday. That news comes as Trump has proposed putting guns in schools by arming teachers nationwide.
Dick's and Walmart: Two of America's largest gun retailers announced they will raise the legal age to purchase a gun from 18 to 21 years old. That proposal has been floated by many in recent days, including Trump, but faces long odds in Congress.
Kelly vs. Kushner: First, White House chief of staff John Kelly decided to downgrade Jared Kushner's security clearance. That has triggered a feud between Kushner and his wife, Ivanka Trump, against Kelly.
As Kushner's portfolio has expanded to include much of U.S. foreign policy, the Washington Post reported foreign leaders have discussed how to gain leverage over Kushner through his international business dealings.
Another potentially big problem for Kushner: The New York Times reported his businesses received large loans after meetings at the White House. And the state of New York is scrutinizing Kushner's relationship with several banks.
Mueller investigation: Special counsel Robert Mueller is reportedly investigating Trump's business dealings in Russia prior to the 2016 election. He's also looking into whether Trump knew the Democratic National Committee had been hacked prior to the release of emails.
BuzzFeed News offers a look into why we should "stop blaming Russian bots for everything."
Ben Carson: Rep. Trey Gowdy (R-S.C.), the chairman of the House Committee on Oversight and Government Reform, wants to know why Ben Carson, secretary of housing and urban development, spent tens of thousands of dollars redecorating his office.
Mississippi brawl: State Sen. Chris McDaniel (R-Miss.) announced Wednesday he will challenge Sen. Roger Wicker (R-Miss.) in the Republican primary in Mississippi. McDaniel says he is the conservative candidate who will support Trump, even though Trump has backed Wicker's re-election bid.
Jeff Sessions: With Trump again taking aim at the attorney general on Twitter over his investigation into alleged Obama administration monitoring of Trump, Sessions dined publicly with his top two Justice Department lieutenants Wednesday in Washington.
Conservative media: The Daily Beast reported veterans of Roy Moore's failed Senate bid have taken over Big League Politics, a far-right news website with ties to Breitbart and InfoWars.
Primaries: Meet the young, progressive Latina trying to oust one of the most powerful Democrats in the U.S. House.
Nuclear weapons: Russian President Vladimir Putin boasted Thursday that Russia has developed nuclear missiles that cannot be intercepted.
Resignation: A CNN investigation triggered the resignation of an official in the U.S. Department of Interior who had made anti-Muslim, birther comments.
Trans killings: At least the fifth transgender person killed this year in the U.S. was shot and killed in Cleveland, Ohio.
Correction: March 1, 2018