Fundamental Reading: On 'RuPaul's Drag Race All Stars 3' episode 6, the girls got their revenge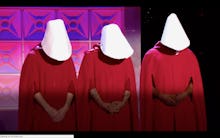 Hello, my pretentious little pineapples. It's time, once again, to chat about RuPaul's Drag Race All Stars 3.
In episode three, BeBe said having a bottom three at that point in the competition (instead of the usual bottom two) was "the gag of the season," spawning one of All Stars 3's best memes — but honey, she could not have been more wrong. Episode six was far and away the most gag-filled episode of the season thus far, one that dramatically altered the course of the remaining competition. But before we get into that elimination — lord help me — we need to discuss the hot mess of a scene at the beginning of the episode.
At the end of episode five, the Handmaid's Tale-inspired tease made it look as though only three of the five eliminated queens would be coming back for their "ruvenge" — but that wasn't the case. Ru announced all the queens eliminated earlier in the season would be coming back to fight for a chance to re-enter the competition. (Maybe the other two had dinner reservations they just couldn't afford to cancel and missed the beginning of filming?)
Regardless, when all five eliminated queens — Morgan, Thorgy, Milk, Chi Chi and Aja — came back to form their very own "Kitty Girl" supergroup to compete against BeBe, Shangela, BenDeLaCreme, Trixie and Kennedy, the tension was as tight as one of Trinity Taylor's famous tucks. As soon as Ru left the room, each of the eliminated queens confronted the person who eliminated them, one by one.
Over the span of just a few minutes, the queens rehashed the season's biggest feuds. First, the girls discussed — yet again — Thorgy's jokey, petty note about Shangela that Trixie hung in her station. Aja confronted BeBe over not thanking her for helping to sew her Studio 54 look. Milk — yet again — argued that she shouldn't have been eliminated. When Kennedy finally told Milk she had a problem with being self-centered, she cried — yet again. That shot of a single, fat, wet tear running down her face will forever be burned into my brain. Folks, it was a mess, but I was into it.
But the most gut-wrenching confrontation of all happened between BenDeLa and Morgan. In the first episode of All Stars 3, Morgan made it clear that if she landed in the top, she'd have no qualms with eliminating the strongest queens to make the competition easier for herself. BenDeLa — ever the Miss Congeniality of the group, to a fault — decided to eliminate Morgan to make the competition fairer overall moving forward. Morgan, much as it pains me to say it, rightfully called out BenDeLa for being hypocritical. By eliminating Morgan, BenDeLa upended her own code of ethics — to eliminate queens based on the judges' critiques — right from the jump.
It was an interaction that clearly shook BenDeLa's confidence, ultimately inspiring her to adopt a "goth kitty" persona in the episode's main challenge. Later, we do see BenDeLa and Morgan make up, but it's clear BenDeLa's still struggling to resolve this inner conflict about her elimination strategy as the competition gets tougher. After Morgan apologized, BenDeLa went so far as to say Morgan was a "fully fleshed human being," a bold proclamation if I've ever heard one.
Which brings us to the elimination. Truly, every single queen did an admirable job in this challenge — save for Chi Chi, bless her heart — leading Ru to rest on her laurels and again choose two of her longtime favorites for the top two: BenDeLa and BeBe. Ultimately, BenDeLa won the lip sync and decided to bring back Morgan, seemingly in an effort to resolve the conflict between them once and for all.
Initially, it looked as though BenDeLa would also eliminate one of the bottom three — Trixie, Kennedy or Shangela — until she unleashed the plot twist of the season. She decided to eliminate herself.
"I was looking over those lipsticks and none of those answers felt right to me," she said.
Since the very beginning, it was clear BenDeLa struggled to eliminate the other queens. She dominated week after week, meaning she consistently had to decide which queen wouldn't get to continue — something that was totally at odds with her initial goal to get through the season without burning bridges. It was perhaps an unreasonable goal for any reality show, but especially so for the structure of All Stars.
Regardless, in eliminating herself, BenDeLa ensured she'll live on in Drag Race herstory forever, even without winning the crown. Though it's clear she damn well deserved it.