With Lifetime's new series 'Glam Masters,' Instagram makeup gets its own reality competition show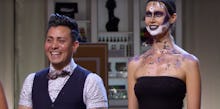 Put a bunch of fashionable, passionate, uber-creative and kind of wacky people together in a competition and there's a good chance that it'll be good reality competition TV.
America's Next Top Model and Project Runway are proof of this. But what's been missing is a makeup competition show that feels high quality and unique. There's Face Off on Syfy, which puts special effects makeup artists head to head, but in terms of a competition show revolving around fashion makeup, and the kind of makeup we're all inundated by on Instagram, that's been lacking.
Enter Lifetime's new series Glam Masters, which is hosted by actress Laverne Cox and which premiered on Wednesday night.
In the premiere, we're introduced to four makeup artists and influencers — Robin Shanael, Argenis Pinal, Taylor Steingold and Solange Nicole — who over the course of the episode will be faced with three makeup challenges that could exist in no other time but 2018. One contestant is kicked off after every challenge, with the final contestant standing going onto the semifinals, which is one step closer to the prize: a collaboration with Kim Kardashian West on a makeup collection and a booth at BeautyCon. (It's set up a bit like Guy's Grocery Games, if you're into that.)
The judges are Cox, along with makeup artist to Kim Kardashian West, Mario Dedivanovic, major YouTube makeup influencer Kandee Johnson and Zanna Roberts Rassi, the senior fashion editor at Marie Claire. The stakes are high for these contestants, who almost immediately mention their Instagram follower counts, with some trying to go deep on what makeup has meant to them. According to Shanael, makeup saved her life.
In the challenges themselves, Instagram's obvious influence on the industry shines through. The first challenge asks contestants to create a dramatic metallic drip look, which is popular on Instagram, in one hour. Then they're asked to take an Instagram-worthy selfie and have their makeup judged in-person by the judges.
The second challenge has them creating an avant-garde look, inspired by the seven deadly sins — the one they most identify with — on models in an hour.
The third challenge, with just two contestants going head to head, asks them to create makeup looks on a model that turns them into living dolls. This too is a big Instagram trend, for some reason.
During each of these challenges, there is drama. An artist can't get the right lipgloss consistency to get a good drip. Another's gold leaf continues to fall off.
With these kinds of challenges, which are as random as they come, you can't help but think about ANTM or even RuPaul's Drag Race. There is an unpredictability to those shows and their challenges that makes it feel like they're entirely worthy of your time and interest.
The judges themselves and the chemistry between them mimics ANTM too, and they supply technical critiques along with snarky commentary. Dedivanovic is by far the most concerned with the quality of the looks presented, with Johnson and Cox playing the super-nice judges.
Cox, it should be noted, does a particularly fantastic job as host and judge, throwing in lines after the drip challenge like, "Which of our contestants is dripping with talent, and who should be melted out of the competition?" but she provides insightful commentary too. After seeing one look, Cox compares it to an Edvard Munch painting.
The show isn't the most high-budget show out there, despite the Kardashian West co-sign, but it's charming in its silly challenges and contestants that remain likable. Maybe Glam Masters will finally prove that a makeup reality show can work.