What Melania Trump wore her 58th week as first lady — for a few speeches and more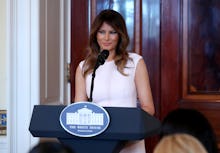 This week was a busy one for Melania Trump. With several appearances and her first speech of this year, which addressed the Parkland shooting and the importance of being kind on the internet (ironically), Trump appeared four different times this week.
This is what she wore:
Monday, Feb. 26: A white dress for a speech at the White House
Melania Trump hosted a luncheon for the spouses of governors at the White House on Monday, where she spoke about uniting after Parkland and the importance of kindness of the internet. No, really.
For the event, show opted for a fitted white dress by Gabriela Hearst, a New York-based designer born in Uruguay.
Wednesday, Feb. 28: A black coat and dress for Billy Graham's service
On Wednesday, Melania Trump and her husband attended the memorial service for Billy Graham at the U.S. Capitol. Trump wore an oversized black coat with a high neck by a designer that's yet to be identified.
Later that day, Trump and her husband hosted a dinner for Graham's family at the White House, where Trump wore the black dress with glittery embellishments that she wore in May, from Dolce & Gabbana.
Thursday, March 1: A pinstripe suit for another White House speech
Then at the White House on Thursday, Trump made yet another speech. This time, it was during the White House Opioid Summit, to which Trump arrived in a pinstripe suit and grey turtleneck.
On her feet were her signature black stilettos.
Friday, March 2: All-black again for Billy Graham's funeral
On Friday, joined by her husband, Vice President Mike Pence and Karen Pence, Trump attended Billy Graham's funeral in Charlotte, North Carolina. She wore a black jacket cinched at the waist with a belt, along with a black skirt that hit below the knee by a currently still-unknown designer.
You can see previous recaps of what Melania Trump wore here.