A history of political statements on the Oscars red carpet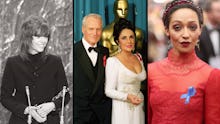 The red carpet right now, with all-black dresses and Time's Up pins, is just about as political as it's ever been. This entire awards season, the red carpet has been the place where stars address the day's most pressing issues, including fighting against sexual harassment in Hollywood and industries beyond.
With as much press attention as these red carpets get, it's been largely effective in starting and steering conversations about this industry's own reckoning. With this Sunday's Oscars approaching, it's only natural to assume that politics will be prominently displayed there as well
And while this may seem new and exciting, the idea of politicizing the red carpet to be about more than just beautiful dresses is nothing new. In fact, looking back, the Oscars red carpet has been a natural place for stars to make statements of their own, and draw attention to causes close to them. Some of these moments have been subtle. In 1936 and 1974, Bette Davis and Katharine Hepburn, respectively, showed up to the Oscars dressed way, way down, being considered scandalous. There's been talk that both of these moments were meant to be feminist statements. But while you have to read between the lines for those moments, others have been much more blatant.
1972: Jane Fonda's black suit
Back in 1972, Jane Fonda was protesting the U.S.'s involvement in Vietnam and also happened to be nominated for best actress for Klute. To the Oscars, she chose to wear a four-year-old black suit by Yves Saint Laurent as a sign of protest.
"I decided to wear it to the Oscars when I won for Klute because I felt it suited the somber times," Fonda told the New York Times. "Besides, I wasn't into buying fancy dresses when the Vietnam War was still being fought."
She ended up winning the statuette that night.
1986: Cher in outrageous Bob Mackie
This is one of those Oscars outfits that would remarkably still be shocking today, but did you know that there was a political message behind it?
According to the New York Post, it's been rumored that the Bob Mackie outfit and mohawk that Cher sported to the 1986 Oscars was meant as a direct dig to the Academy itself.
That year, the Academy sent out a memo asking the actresses to dress appropriately, and stop wearing so many pantsuits. So naturally, Cher showed up in a midriff-baring black glitter jumpsuit.
1992 and 1993: Red ribbons for AIDS awareness
The red ribbon was created in 1991 as a symbol for AIDS awareness. At the 1992 Oscars, the night's biggest stars arrived with them pinned onto their dresses and tuxes.
A standout star and supporter of this effort was Elizabeth Taylor, who joined fellow stars Paul Newman, Daryl Hannah and others in wearing the ribbon to the show.
Then at the 1993 Oscars, It made a notable appearance on Susan Sarandon and Tim Robbins, with the two wearing the ribbon as a way to speak about HIV-positive Haitians who were being held at Guantanamo.
Tom Hanks wore an augmented red ribbon in 1994, while winning the award for best actor for his role in Philadelphia.
1993: A purple ribbon for urban violence awareness
To the 1993 Oscars, Denzel Washington wore a purple ribbon to bring attention to urban violence in America.
2016: Bracelets against gun violence
In a very subtle political fashion statement at the 2016 Oscars, stars wore bracelets from the #Enough campaign, which were created through a partnership between anti-gun violence organization the Brady Campaign to Prevent Gun Violence and the service project MyIntent. Intended as a public call to end gun violence in the United States, stars who took part in the statement included Bryan Cranston, Steve Carell and best director nominee Adam McKay.
It'll be interesting to see if anything gun control-related makes its way onto this year's red carpet.
2017: Blue ribbons for the ACLU
Last year's Oscars were a banner year for red carpet political statements. Pinned onto the dresses and lapels of some of the night's biggest stars were blue ribbons in support of the American Civil Liberties Union, which had already been fighting hard against the Trump administration and its proposed policies.
2017: Ava DuVernay wearing a Muslim designer
Ava DuVernay took it one step further that night. In light of Trump's travel ban, DuVernay wore a dress by designer Mohammed Ashi of Ashi Studio, who is from Lebanon, a majority Muslim country.
2018: Stay tuned...
With so many causes worthy of attention this year, including Time's Up and gun control in light of the mass shooting in Parkland, Florida, it'd be foolish to think that politics won't be highlighted on the red carpet." or "won't find their way onto the red carpet