'The Shape of Water' wins best picture at the Oscars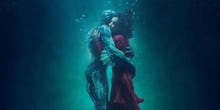 The Shape of Water, Guillermo del Toro's surreal fantasy-romance, has won the Academy Award for best picture, beating out eight other films, including Three Billboards Outside Ebbing, Missouri, which won the Golden Globe for best motion picture drama and was a serious contender for the top award at the Oscars.
In accepting the best picture Oscar on behalf of The Shape of Water, director del Toro said he wanted to dedicate his win to young filmmakers around the world. Best picture wasn't the first award of the night for The Shape of Water — it went into the night with 13 nominations, the most of any film this year, and came away with four wins, including one for best original score and a best director win for del Toro.
The Shape of Water is a sci-fi love story, set in a rainy imagining of Baltimore in 1962. It's a tale of outsiders — starring Sally Hawkins as Elisa, a mute woman who works as a janitor and lives alone above a movie theater, just one of the film's many self-aware nods to the transformative powers of art.
Elisa's only friends are her next-door neighbor Giles (Richard Jenkins), a heartbreakingly lonely gay man, and Zelda (played with down-to-earth compassion by Octavia Spencer), Elisa's coworker and interpreter. Elisa befriends, saves and falls in love with a sea creature that's being held captive in the government lab where she works.
The Shape of Water is, at different points, a Cold War drama, a heist movie and a fairytale. While less overtly political than some of its competitors in the best picture field — Get Out and The Post were both thought of and heralded as films specifically responding to the Trump era — the film's portrayal of a sea monster brought to the U.S. from a South American river as an oppressed outsider can easily be read as an immigrant story. Speaking to Indiewire in November, del Toro discussed how making The Shape of Water had been an intensely personal process for him.
"This movie is a healing movie for me," he said. "For nine movies I rephrased the fears of my childhood, the dreams of my childhood, and this is the first time I speak as an adult, about something that worries me as an adult. I speak about trust, otherness, sex, love, where we're going. These are not concerns that I had when I was 9 or 7."