Don't expect gun control to pass anytime soon, as McConnell has no definitive plans for a vote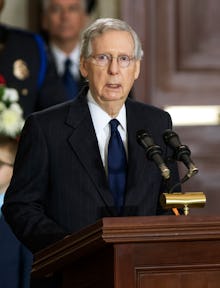 Senate Majority Leader Mitch McConnell told reporters on Thursday that he has no plans to bring a gun control bill to a vote next week — a decision that will delay any action on gun reforms that both Democrats and even some Republicans have called for in the wake of the mass shooting in Parkland, Florida.
"We'd love to do that at some point. I'm hoping there is a way forward," McConnell said, according to CNN, giving a noncommittal answer about when a gun control bill may be put up to a vote in the Senate.
After March 9, the Senate only has two more work weeks left until the Easter holiday recess. That break will come right before the March for Our Lives rally on March 24, which is being organized by the teenage survivors of the shooting at Marjory Stoneman Douglas High School.
If the Senate doesn't move on guns before the Easter recess, gun control advocates will have to wait until at least April 10 — when the Senate is slated to return — to see any action on guns.
A number of gun control bills have been floated on Capitol Hill, including two bipartisan background check bills that President Donald Trump appeared open to during a Wednesday meeting with congressional lawmakers from both sides of the aisle.
During that meeting, Trump vowed that despite the previous failures of Congress to pass gun reforms, this time will be different.
"This is a very important subject, and it's happening, I think, at a critical time," Trump said at the meeting. "And this is a very different period than we've experienced. We have to do something about it. We now have to do something. We have to act. We can't wait and play games and nothing gets done."