James Ivory wins best adapted screenplay Oscar at the Academy Awards, for 'Call Me by Your Name'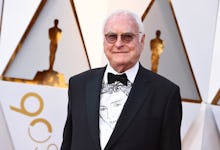 At Sunday's Academy Awards, James Ivory won the Oscar for best adapted screenplay, for his work on Call Me by Your Name, the adaptation of André Aciman's 2007 novel, starring Timothée Chalamet and Armie Hammer. Ivory is no stranger to the Academy Awards; he's been nominated three other times in the directing category, but Sunday night marked his first-ever Oscar win.
"My rule number one for a screenwriter who adapts a novel is first to thank the author: André Aciman, who wrote the story about first love and is here tonight," Ivory said in his acceptance speech. "[Call Me By Your Name is] a story familiar to most of us, whether we're straight or gay or somewhere in between. We've all gone through first love, I hope, and come out the other side mostly in tact."
In winning, Ivory became the oldest Oscar recipient ever at age 89. The previous record holder was Ennio Morricone, who was 87 when he won the Oscar for best original score on Quentin Tarantino's 2015 film, The Hateful Eight.
Ivory has had his hands in the movie business for decades, so this recognition was a long time coming. In 1961, Ivory formed a production company with Ismail Merchant, who was also his romantic partner for over 40 years until Merchant died in 2005. Together, they worked on dozens of films over several decades, including 1985's A Room With a View, 1992's Howard's End and 1993's The Remains of the Day, all of which yielded best-director nominations for Ivory at the Academy Awards in their respective years.
At Sunday's ceremony, Call Me by Your Name was up for a total of four Oscars. Ivory's win was its first.
Regardless of whether Ivory had won, it was been a victorious year for Call Me by Your Name. Even though the film hasn't made a significant amount of money, it has garnered near-universal critical praise, and it brought to life a story of vital importance to many queer men. Unlike so many other queer films, Call Me by Your Name doesn't involve a tragedy — and hey, Hammer's legs aren't so bad to look at, either.